Dreamee Dog's C
o

l

o

r

i

n

g

Pages

As a talented artist, it's Dreamee Dog's mission to create new and exciting coloring pages. Dress her up for Christmas, color placemats for Thanksgiving, celebrate Chinese New Year, make a Valentine for your sweetheart, or color your favorite book. Word searches and dot-to-dot pages celebrate the seasons. The images below contain a link to the coloring page booklets. They are in an Adobe PDF format. Click on an image to download and print a booklet. Color and display your art work. Have fun!

Discover your "ONE MIX . . . Endless Possibilities!" with our premium gluten-free baking mixes.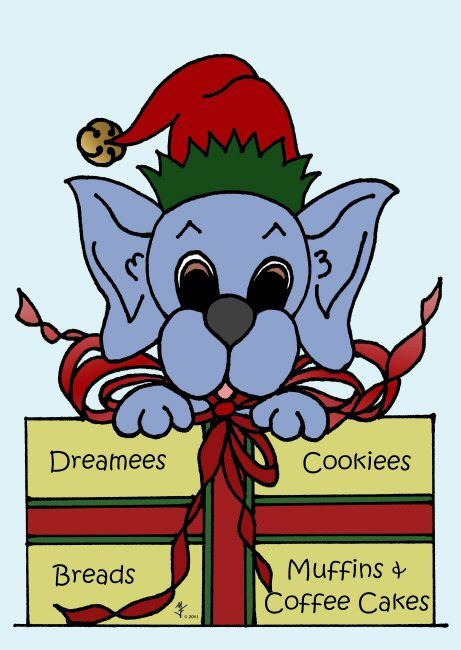 Christmas 2012-2018
Dreamee Dog loves Christmas. She has been a very good puppy this year and knows Santa will bring her lots of fun toys. Santa's B-Team ReindeerShe can't wait for all the good smells of Christmas and all the beautiful decorations. Did you know she has a dog Nativity Set under a tree full of puppy ornaments? Dreamee Dog just knows you'll enjoy all of her coloring pages while you wait for Santa to deliver your gluten-free goodies. She couldn't decide which coloring pages she wanted to show off, so she's decorating her house with all of them. Learn about Santa's B-Team Reindeer (2012), make Christmas Ornaments (2013), celebrate the Twelve Days of Christmas (2014), decorate for Christmas (2016), read Christmas Classics (2017), and find your favorite Christmas Sweater (2018). Don't forget to get ready for the new Star Wars movie (2015)! Now, Dreamee Dog is going to curl up on her dog bed for a long winter's nap.
Don't forget to order a case of Cookiees mix! Use our premium gluten-free baking mix and choose from over 30 different recipes. Chocolate Chip, Sugardoodles, Apricot Bars, Easy Cut Sugar Cookies, Double Chocolate, Spritz, Kolache, and even a delightfully delicious Chocolate Cake. Bake some cookies while the kids are busy with the coloring pages.
Sometimes it's hard to choose. That's especially true in baking. What do you do when you just don't know which recipe to make? That's simple. Keep your options open. Order a Sample Pack of premium gluten-free baking mixes today. SAVE 20% on your order.



Sign Me Up!
Tell me about
new products, recipes, special offers, and fun for kids
.