Privacy Policy
Our Email Marketing List
Yummee Yummee sells gluten-free baking mixes. We are NOT in the business to sell email addresses to marketing organizations or other companies. If you join our email list, your email address will be used by Yummee Yummee to email to that address special offers, new product information, recipes, and related marketing materials. You may opt out or remove your email address from our email list(s) at anytime.
Your Personal Information
When you provide personal information to Yummee Yummee, it is only used for marketing purposes or to ship products to your address. What does Yummee Yummee consider personal information? It is any information that is personally identifiable to you. This list includes your name, address, email address, or phone number. It also includes any information gathered from you that is not otherwise publicly available.
Credit Card Information
Credit Card information, (number, CVV2 and expiration date), is not stored or saved by Yummee Yummee. The credit card is safely and securely transmitted electronically to the credit card clearing company, (bank), for approval and final processing. The Yummee Yummee Team never sees the complete number - just the last four digits.
Information Collected from Your Browsing Activities
Yummee Yummee, like all Internet websites, collects a variety of information when you browse the website. This includes IP address, software and hardware attributes of your computer / device, and page requested. This information is collected automatically and stored by the web server. This information is aggregated for marketing and informational purposes.
Children
Yummee Yummee believes childen under age 13 should have all Internet activities monitored and supervised by parents or guardians. As such, special promotional offers from Yummee Yummee may have appeal to children under age 13. Examples are, but not limited to, coloring pages, coloring books, and / or special activities pages for children as a part of our marketing efforts. Yummee Yummee will remove any email address from our mailing lists if that email address appears to belong to a child. You are strongly encouraged as a parent or guardian to monitor your childrens' Internet browsing and email activities. Our marketing activities are targeted to parents and guardians of gluten-free children with the sole purpose of making a gluten-free life easier for those children.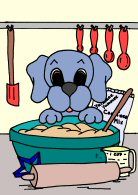 Comments or Questions
If you have questions or comments about Yummee Yummee's privacy policy, please contact us with your question or comment. Please click here to do so.
And, as always the Dreamee Dog reminds you to ...
Sign Me Up!
Tell me about
new products, recipes, special offers, and fun for kids
.