Sweet Gluten-Free Bread Recipes
Enjoy sweet gourmet gluten-free bread recipes.

Using Yummee Yummee's premium Breads mix, make soft gluten-free sweet bread recipes - Danish, coffeecakes, cinnamon rolls, and more, in an hour. Gluten-free bread baking is easy. Our dairy-free substitutes require no change in preparation or baking time.
Discover your "ONE MIX . . . Endless Possibilities!" Stop dreaming about soft bread and start eating the best gluten-free bread from Yummee Yummee today.
Cherry Cheese Danish Loaves are perfect for a brunch, bridal, or baby shower. Savor the flavors in this cream cheese and cherry braided bread. Cranberry Vanilla Breakfast Bread is a quick and simple breakfast treat, which combines the flavors of cranberries, brown sugar, nutmeg, vanilla, and cinnamon. Fresh, warm breakfast bread in about an hour. Don't toss the sugar and cinnamon in the bread dough and call it cinnamon swirl bread. Our recipe for Swirled Cinnamon Bread allows the flavor of the sugary cinnamon filling to swirl through every decadent bite. Let the kids unroll the bread slice and enjoy the strips of yummeeness. One roll is not enough. Orange Cream Cheese Swirls have the taste of Florida sunshine in every bite. These soft, flavorful swirls delight the palate with a hint of orange flavor and cardamom. Add an extra burst of sweet orange flavor with the drizzle.
Our Cinnamon Rolls bring back childhood memories of Mom's breakfast table. Enjoy these warm, fresh, soft, sweet rolls filled with butter, sugar, and cinnamon. Top with cream cheese frosting, or eat plain. Try our Maple Pecan Twist Coffee Cake for an extra-special celebration.

Enjoy your beautiful creation. It is gourmet gluten-free art. Yummee Yummee's Cranberry Swirl Bread recipe makes 2 flavorful loaves. Cranberries and pecans are the perfect complement for a cold, Fall day. Taste and enjoy Yummee Yummee goodness! Tony's Cherry Coffee Cake is a tribute to our local baker. His wheat-filled version sold out everyday. This version is gluten-free easy. Spread the dough in a 13 x 9 inch pan, let rise, add the cherry topping, bake, and enjoy.

"Laissez les bon temps rouler!" King Cake is a New Orleans tradition for Mardi Gras. Purple, green, and yellow sugars are ideal for a festive Fat Tuesday party. Use this sweet yeast bread for a family brunch without the colored sugars. Bon Appetite, Mesdames et Messieurs! Enjoy these fun figure eight morsels from the first bite to the last. Cinnamon Roll Coffee Cake is a twist on the classic Cinnamon Roll. Add a drizzle or cream cheese frosting for a sweet brunch treat. Cut and twist your way to gluten-free nirvana. Gluten-free Danish? The sweet buttery taste of a weekend morning can be yours again with our Praline Danish recipe. We solemnly swear that these rolls are gluten-free, but we never said anything about them being calorie-free. Maple Bacon Rolls are as delectable as they sound. Crisp bacon and sweet maple give you a taste of Fall.
Bake Black Forest Rolls as a Christmas morning treat. Enjoy the flavors of chocolate, cherries, cream cheese, and even more chocolate. This recipe is so good don't wait until Christmas. You can open this package early! Candy Cane Breakfast Rolls are a sweet Christmas treat. Loaded with cranberries and nuts, these rolls are better than the candy version. Rich vanilla perfectly accents the cinnamon-sugar filling in these Vanilla Cinnamon Rolls. There are always plenty to share. Rose's Cherry Rounds are grandma's special recipe, made gluten-free and easy. Spirals of sweet yeast dough, topped with cherries, and drizzled with a powdered sugar glaze will make these sweets disappear. Yum!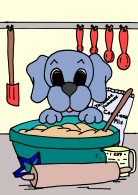 It's time you discovered Yummee Yummee premium gluten-free baking mixes and recipes. Every recipe is Yummee Yummee good and will please everyone - gluten-free or not. Yummee Yummee gluten-free bread is easy to make and full of flavors - Sweet or Savory.
"Stop Dreaming . . . Start Eating!"
Read, print, or save our FREE Yummee Yummee recipes. It's easy. Click on the recipe image or description for the recipe in a PDF format. Use the Adobe Acrobat Reader to open, read, and print the recipes. Check our FAQ page for more information and details about the Adobe Acrobat Reader.
Add Yummee Yummee goodness to your pantry. Select a recipe to make, bake, eat, and enjoy - today! Enjoy Yummee Yummee's SWEET and SAVORY recipes.

Discover your . . . "ONE MIX . . . Endless Possibilities!"