99 cent Halloween Decorating Tricks
Discover your "ONE MIX . . . Endless Possibilities!" with our premium gluten-free baking mixes.

October 25, 2012
Tucson, Ariz. - October 25, 2012 – Halloween is just around the corner. The pressure for the creepiest decorations is mounting. Don't break the bank; scare up a thrill on the cheap. Visit your local 99 cent discount stores for spooktacular decorating ideas. The kids are counting on you, the adults will be overwhelmed by your creativity, and you can save money for the upcoming Thanksgiving feast. For only a few dollars, plan to throw an awesome Halloween bash that every ghost and ghoul will remember for many a midnight hour. Start the fire for your bubbly pot of Witch's Brew as you plan the best Halloween party. Drag your chains to our dungeon to see these easy secret tricks. They are hauntingly good!
Fudgee Chocolate Velvet Cake makes a perfect gravesite!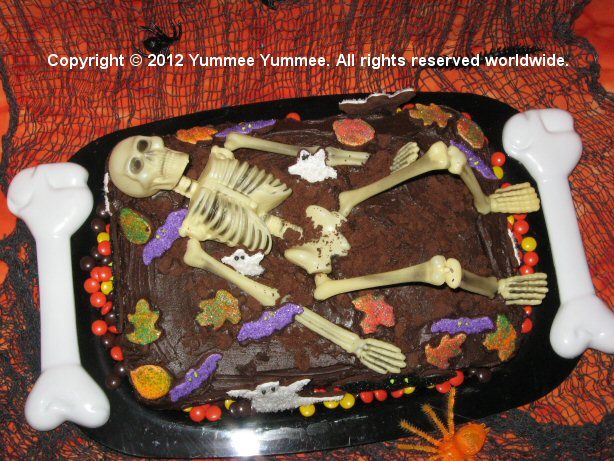 Cut cookies with royal icing are a hit with any child – ages 9 to 90. Decorating these cookies with a 99 cent bag of plastic spider rings is a guaranteed favorite. Just snip the ring with a pair of scissors right below the body of the spider. Add a bit of royal icing and place the spider on your decorated cookies. These spiders make cookie decorating so much faster and easier than piping each individual spider. Plastic spiders create a creepy touch to any cookie - a spider web, a candy corn, a witch's hat, or a spooky ghost. Black spiders are great, but spiders with a touch of color - green, orange, or purple - give a creative zing to that special cake or cupcake. Remind your guests that the spiders are not edible, and always be aware of choking hazards with small children.
We found plastic dancing skeletons at all of the discount stores and had to put them to use on our layer cake. First, frost the entire cake with your favorite recipe for chocolate frosting. Chocolate provides the best contrast to really show these bony fellows dancing around the cake. While the frosting is still moist press each dancing skeleton around the sides of the cake into the frosting. We chose several different colors, but the cake looks great with all white skeletons, too. A trip to the ghoulish graveyard anyone? Don't forget to decorate the top.
Have you carved your jack o'lantern? Skip the mess and buy 99 cent plastic jack o'lantern pieces. They are designed to push into real pumpkins. It sounded so easy we picked up several packs to use as jack o'lantern faces on our orange frosted layer cakes. Make several and place throughout the buffet table. Choose from a jack o'lantern, a werewolf, or a pirate, complete with an eye patch and earring.
A round cake makes a perfect Jack O'Lantern centerpiece!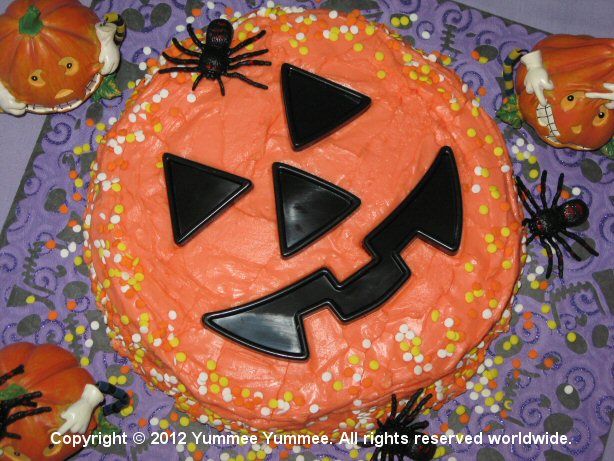 Jointed skeletons for 99 cents make the perfect centerpiece for any haunted Halloween bash. A 13 x 9 inch cake becomes a graveyard scene with this bony skeleton fighting his way out of the rich chocolate graveyard dirt. Frost and decorate chocolate cut cookies to place around the cake. Save a few unfrosted chocolate cookies to crumble and add the cookie crumbs to the top of the cake to resemble dirt. Everyone uses black cats, ghosts, and bats for Halloween, but don't forget to use your tiny maple and oak leaf cookie cutters to look like fall leaves on the ground around your skeleton. Play with LED lights, a spare flashlight, or focused spot lighting to make creepy lighting effects for your rising skeleton. Your guests will tremble with fear as the clock strikes midnight.
You don't have to be a professional decorator to make creepy Halloween cookies. You need a few tricks and a magic spell. The witch at our house frosts the cookies with royal icing. Next, she sprinkles the damp frosting with decorator sugars of the same color. The glitter from the sugars hides any uneven frosting flaws around the edges of the cookies. Details are added and the spell has been cast! If you're getting a sugar high decorating your artistic creations, take a break and watch our video "A Ghostly Gluten-Free Tale" available on the website.
Get Spooky with Chocolate Cut Cookies!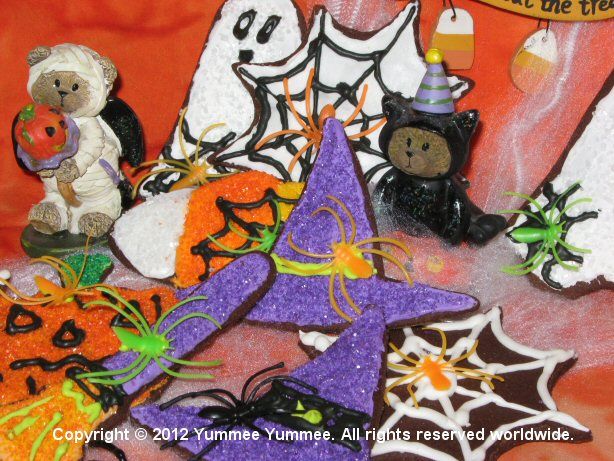 Pick up your paper supplies – plates, cups, napkins, plastic utensils, and serving bowls at the discount stores. Real plates are nice, but no one wants to wash dishes after a howlingly good Halloween bash. Our 99 cent store had name brand napkins – last year's design, but just as spooky for this year's party.
Set the stage for your Halloween party by decorating the front yard and the inside of the home. Spooky, creepy things need to jump at you at every twist and turn as you make your way through your spooktacular Halloween party. Did you keep the kids' costumes from last year? Grab the cape from last year's superhero, add a dollar store mask, and a foam tombstone to make a creepy decoration for your house. Ghoulish and creepy!
The discount stores had so many items for 99 cents; we had trouble deciding which ones to choose for our spooktacular Halloween bash. Mummies, ghouls and other creepy figures lined the shelves. Bags of bones, decorative fencing, indoor paper decorations, masks, and so much more. Before you leave any of these stores remember no Halloween party is complete without the traditional 'crime scene' style tape, a few cardboard cut-outs, black spiders, saws, knives dripping with blood, and a piece or two of creepy cloth.
Use creepy cloth over a tablecloth or colored piece of fabric and place under your Halloween buffet. Add stretchy spider webs and you are ready to grab a bowl of steaming hot Witch's Brew. Go to yummeeyummee.com for the free recipe for authentic Witch's Brew, more decorating ideas for Halloween food, and free coloring pages for the little ghosts at your house. Have a haunted Halloween bash with our 99 cent decorating ideas, and a howling good time with the Dreamee Dog at her Halloween Party.
Web site: https://www.yummeeyummee.com
SHOP & SAVE 20%: https://www.yummeeyummee.com/store/index.html
Facebook: https://www.facebook.com/yummeeyummee
Pinterest: https://www.pinterest.com/dreameedog
Twitter: https://twitter.com/thedreameedog
YouTube: https://www.youtube.com/user/TheDreameeDog
ABOUT: Yummee Yummee produces 4 unique and highly versatile, premium gluten-free baking mixes - Dreamees, Muffins & Coffee Cakes, Breads, and Cookiees. Make artisan crackers and biscuits; fruit filled muffins, coffeecakes, and quick breads; soft sandwich and artisan breads, pizza, and cinnamon rolls; chip-filled cookies, easy-to-make bars, and sugary delights. Our premium baking mixes offer remarkable taste, gluten-like texture, and incredible value for gluten-free bakers. Unlike most single purpose baking mixes, Yummee Yummee gives the baker complete control. You decide what to bake and enjoy. Mixes are available exclusively at yummeeyummee.com. The Dreamee Dog is the official spokes pup for Yummee Yummee.
# # #
For more information concerning this press release click here for contact information.

Not available in stores - online only! SHOP & SAVE 20% on a case of premium gluten-free mixes or a Sample Pack. It's a great way to sample and enjoy each of our premium gluten-free baking mixes.

Sign Me Up! Tell me about new products, recipes, special offers, and fun for kids.