Inexpensive Halloween Decorating!
Decorate Cut Cookies with Spider Rings
Discover your "ONE MIX . . . Endless Possibilities!" with our premium gluten-free baking mixes.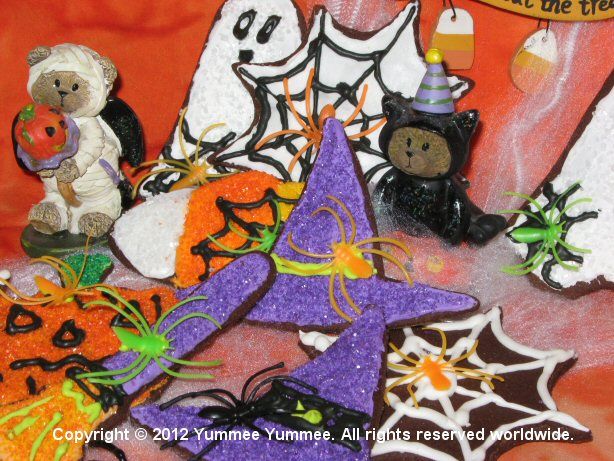 Use Plastic Spider Rings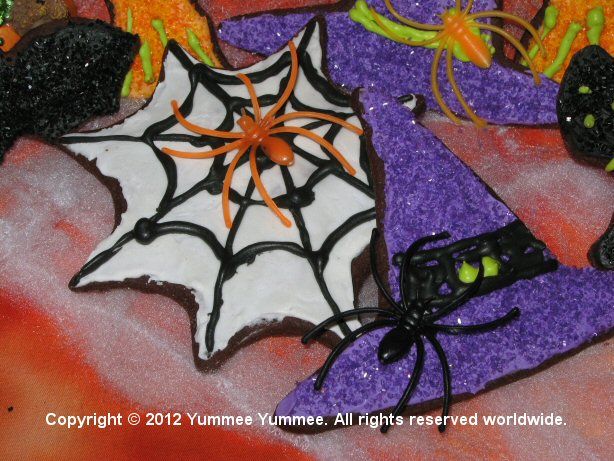 Add a Creepy Touch
Decorating cookies with a 99 cent bag of plastic spider rings

is a guaranteed favorite. Just snip the ring with a pair of scissors right below the body of the spider. Add a bit of royal icing and place the spider on your decorated cookies. Plastic spiders make a creepy touch to any cookie; a candy corn, a witch's hat, or a spooky ghost.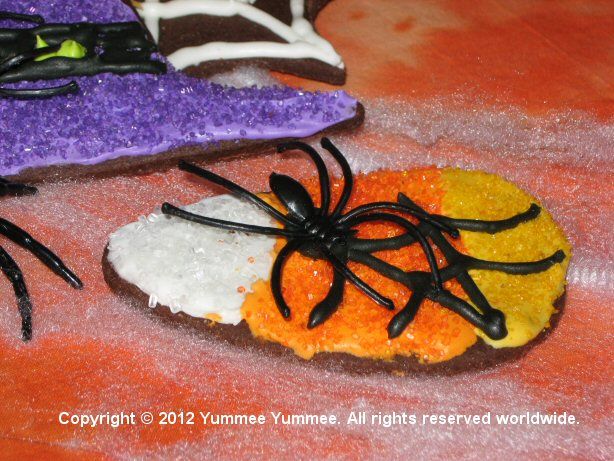 Use Multiple Colors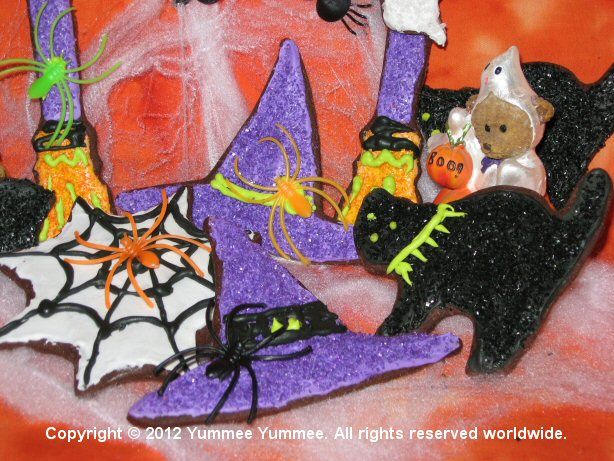 Witches' Hats
Plastic spiders are not only black, but come in a variety of colors - green, orange, or purple. Give a creative zing to that special cake or cupcake. Remind your guests that the spiders aren't edible, and always be aware of choking hazards with small children. Plastic spiders are extra creepy when paired with witches' hats, witches' brooms, black cats, and spider webs. BOO!
Dancing Skeletons, Jack O'Lantern, and Last Year's Costumes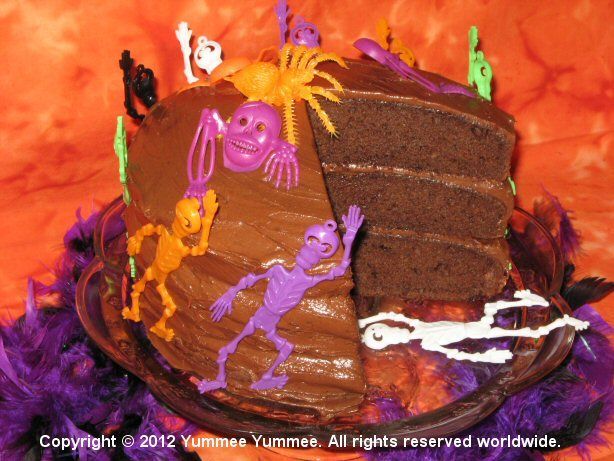 Dancing Skeletons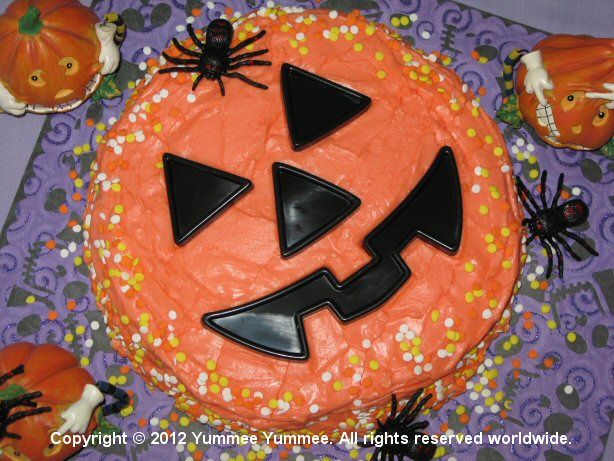 Jack O'Lantern Cake
Frost a layer cake with your favorite chocolate frosting or use our recipe for Fudgee Cocoa Frosting. While the frosting is still moist, press each dancing skeleton around the sides of the cake into the frosting. Use several different colors or all white skeletons. Don't forget to decorate the top. Use a couple of skeleton head book marks and a large plastic spider. A feathered boa in Halloween colors makes a fabulous display on your dessert table. Frost your cake with white frosting that has been dyed orange. Sprinkle candy corn colored sprinkles around the top edge and press sprinkles around the sides of the cake. 99 cent plastic jack-o-lantern pieces are designed to push into real pumpkins.

It sounded so easy we picked up several packs to use as jack-o-lantern faces on our orange frosted layer cakes. Make several and place throughout the buffet table. For a festive touch, use Halloween themed scrapbooking paper as your cake plate.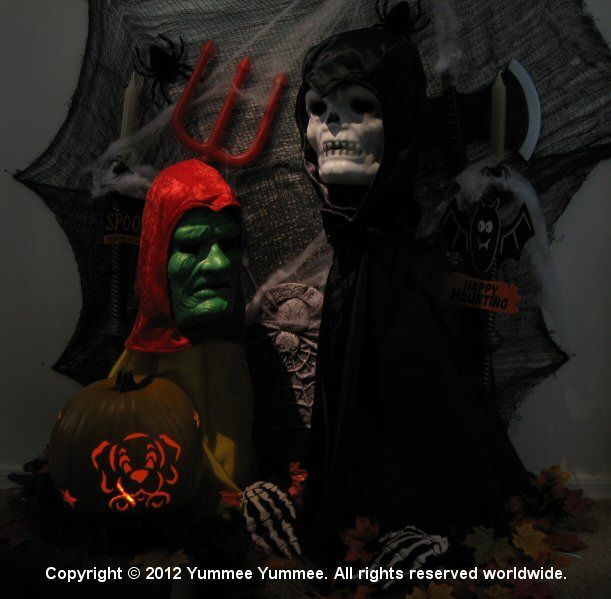 Costumes as Party Props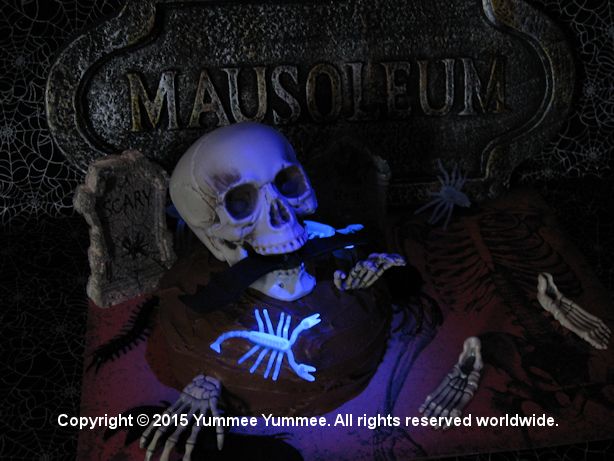 Black Light
Use the kids' costumes from Halloween last year. A superhero cape, a dollar store mask, creepy cloth, and a tombstone make a creepy decoration for your house.
Cupcakes, Cobwebs, and a Tombstone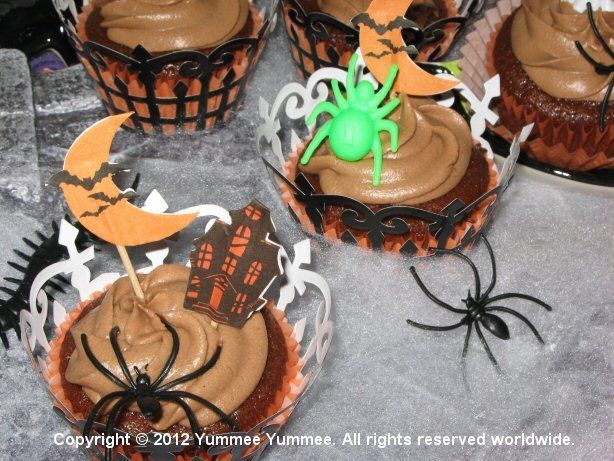 Spooktacular Cupcakes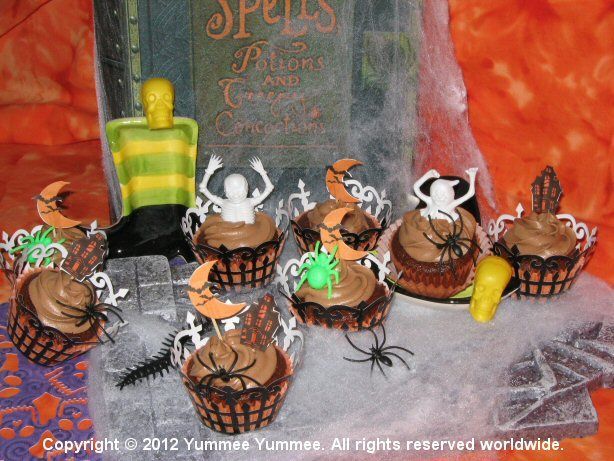 Halloween Magic!

Arrange the decorated cupcakes on top of a tombstone covered with cobwebs. Bake chocolate cupcakes in orange paper liners. Place cupcakes in a second liner and cupcake wraps when cooled and frosted.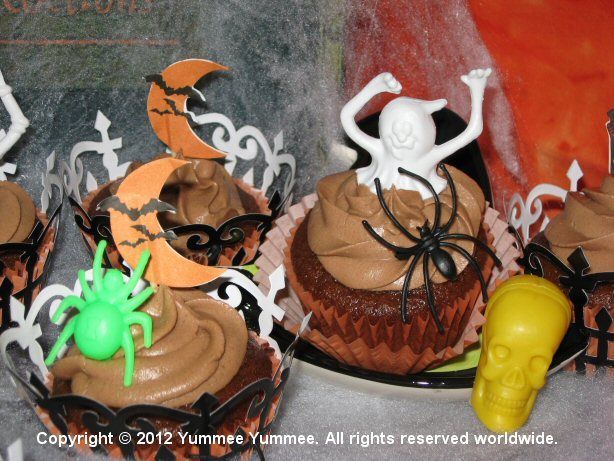 Simple Party Favors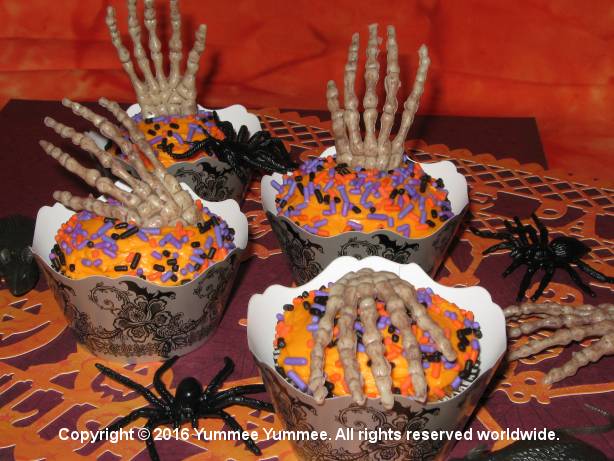 Skeleton Hands
Add decorative Halloween picks, plastic spider rings (do not remove the ring), and finger puppets to the frosted cupcakes. It's a fun and edible way to enjoy party favors.
Make a Skeleton Rise from the Grave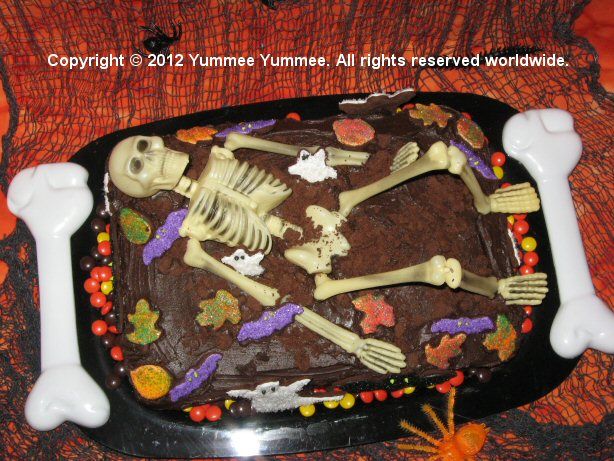 A Skeleton Rises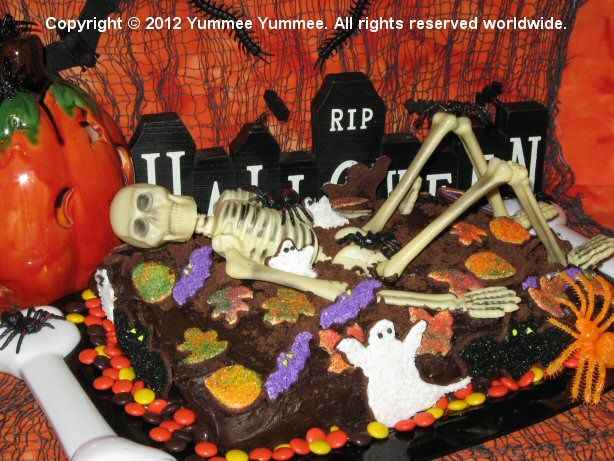 Get Creepy
A 13 x 9 inch cake becomes a graveyard scene with this bony skeleton fighting his way out of the rich chocolate graveyard dirt. Frost and decorate Chocolate Cut Cookiees to place around the Fudgee Chocolate Velvet Cake. Unfrosted chocolate cookie crumbs make the dirt on top of the cake. Use 1 to 2 inch maple and oak leaf cookie cutters to make fall leaves on the ground around your skeleton. Add candy-coated peanut butter candies around the base of the cake.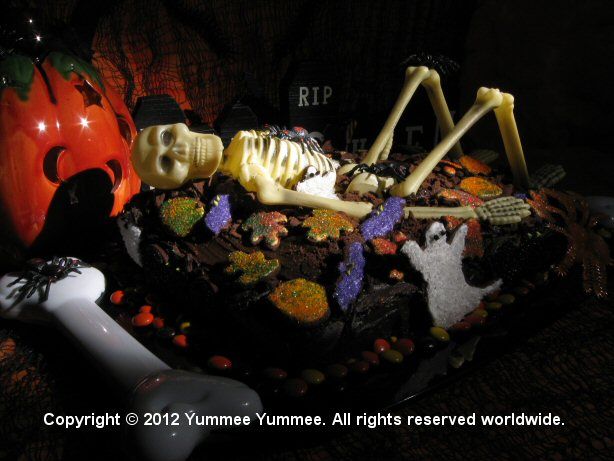 Ghostly Lights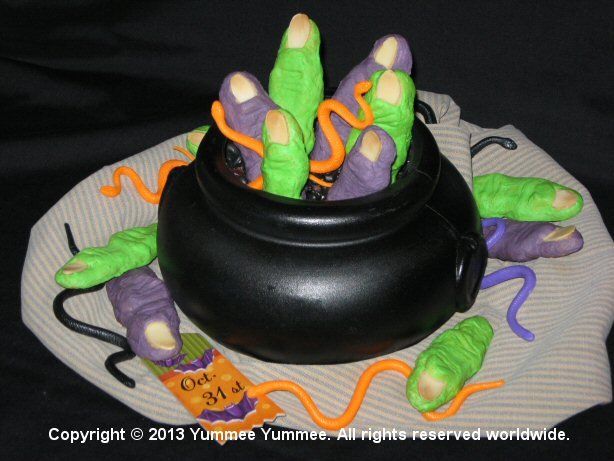 Wicked Witches' Fingers

Use LED lights, a spare flashlight, or special spot lighting to make creepy effects for your rising skeleton. It sets the mood for the party.
Fall Leaves, Spider Cake, Candy Corn Cookiees, and More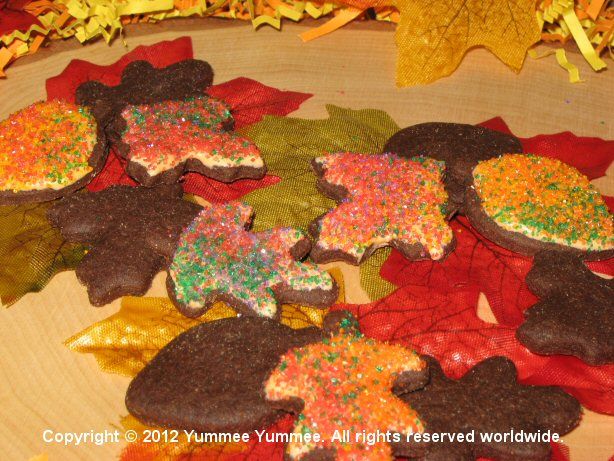 Fall leaves as Accents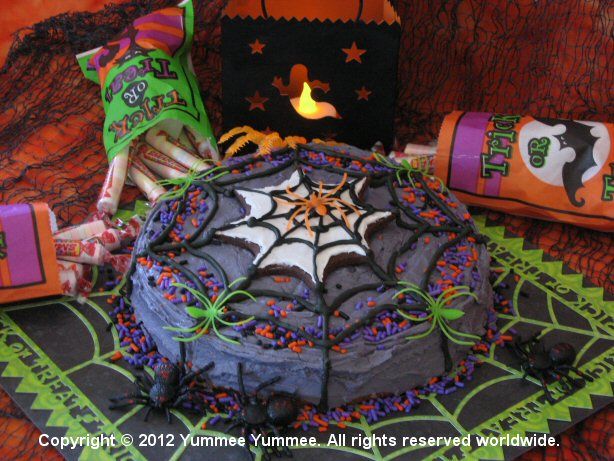 Spiders, Spiders
Frost 1 to 2 inch leaf-shaped cookies with orange royal icing. While the icing is still moist, sprinkle the leaves with various colors of decorator sugars. Use these fall leaves on your Fudgee Chocolate Velvet Cake with the skeleton emerging from the graveyard. This spooky cake is easy to make. Dye white frosting a ghoulish shade of purple and frost your cake. Add Halloween sprinkles around the edge. Place a spider web-shaped decorated cookie in the center. Pipe additional black spider web lines to match the cookie over the top and sides of the cake. Snip plastic spider rings with a pair of scissors right below the body of each spider. Add a bit of icing and place the spiders around the edge of the cake. Don't forget your scrapbooking paper.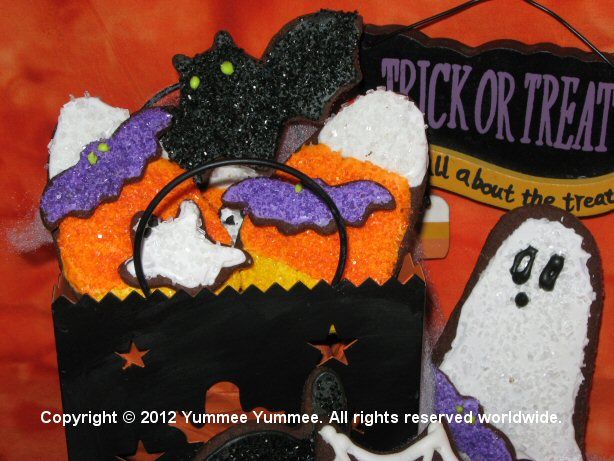 Cookies on Cookies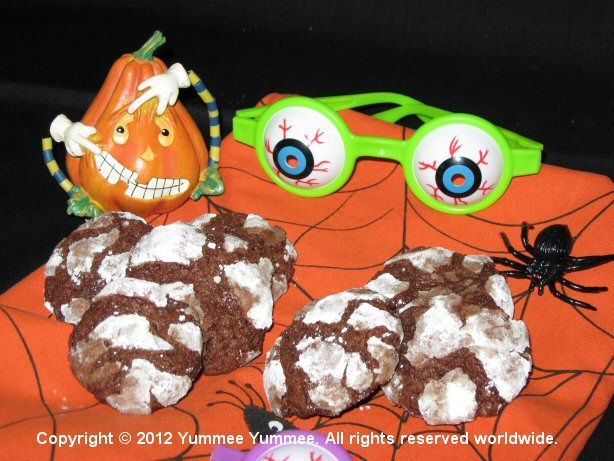 Monster Glassses
Frost the cookies with royal icing. Sprinkle the damp frosting with decorator sugars of the same color. The glitter from the sugars hides any uneven frosting flaws around the edges of the cookies. Add details, plastic spiders, or 1 to 2 inch ghost or bat cookies to 2 1/2 to 3 inch cookies with royal icing for a cookie on cookie effect. Decorate your Halloween dessert buffet with ease.

Pile cookies on top of Halloween dish towels. Add a few party favors, such as these 99 cent eyeball glasses. Shake out the crumbs, wash your dish towel, and save for next year's party.
ATTENTION ADULTS: Please be sure to remove any and all plastic decorating items from the food before serving to children or other adults. It's inexpensive and fun, but please be safe. Avoid any possibity of a choking hazard. Have a spooktacular party!
Every image on this page was made with a Yummee Yummee gluten-free recipe and baking mix. From cookies to cupcakes and cakes, it's easy with Cookiees mix. Shop for premium gluten-free baking mixes and stock your pantry for the spooky times ahead. Don't go to the grave eating mediocre gluten-free food.
Sign Me Up!
Tell me about
new products, recipes, special offers, and fun for kids
.