Christmas Gingerbread and Cakes
Gingerbread is a Christmas Classic
Discover your "ONE MIX . . . Endless Possibilities!" with Yummee Yummee's premium gluten-free baking mixes.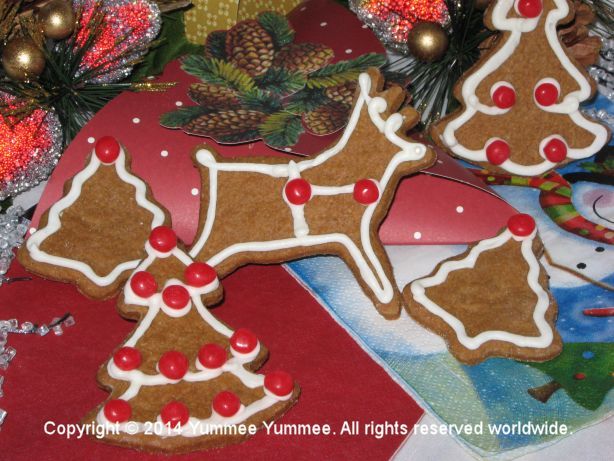 Reindeer & Trees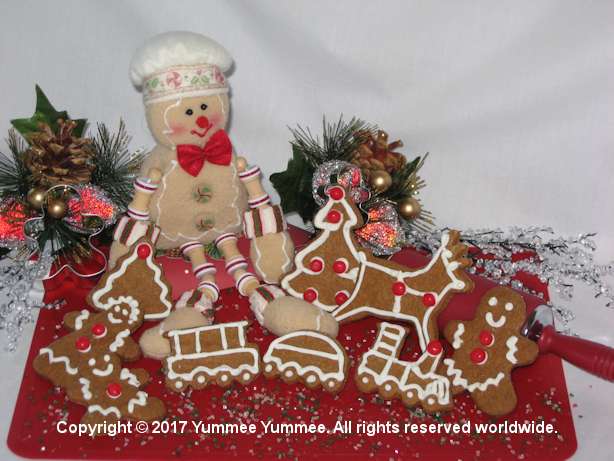 Polar Express - Boys & Girls
Leave Santa decorated cookies and milk.

Decorating Gingerbread cookies is fast and easy. Use white royal icing to outline the cookies. Make clothing and tree branches with additional icing. Add cinnamon candies for ornaments, buttons, and other details.
With a Sleigh Full of Cookies - And Saint Nicholas, Too!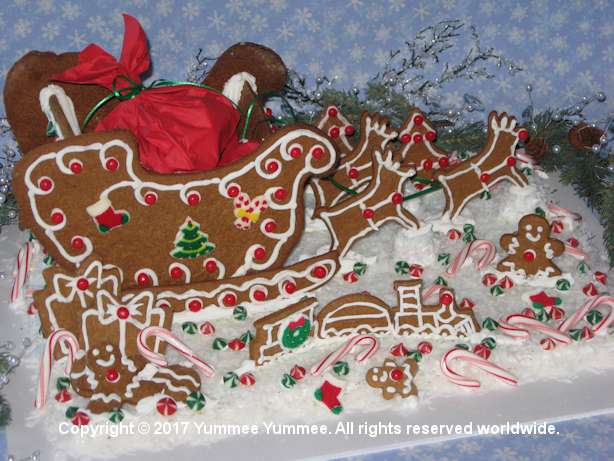 Santa's Pack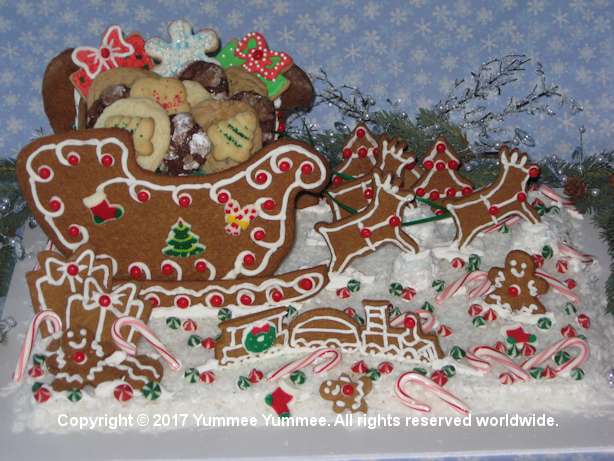 Sleigh Full of Cookies
Use Crispiees to make an edible base for Santa's Sleigh. A lightly greased 13 x 9 inch baking pan works well. Place set Crispiees on a piece of foam core for stability and adhere with royal icing. Use small mounds of Crispiees to support the front legs of the flying reindeer. Cover the Crispiees base and small mounds with white royal icing. Sprinkle with sweetened flaked coconut. Combine blue and white sugar crystals and sprinkle over the base for an appearance of new fallen snow. Use Gingerbread to make the sleigh. Draw, or print, a pattern for your sleigh on paper. Cut around the template with a knife, making two sides, two runners, a front, a back, and a bottom. Use cookie cutters to make reindeer, packages, trains, ornaments, and Gingerbread boys and girls. Assemble and decorate the sleigh and cookies with white royal icing. Attach cinnamon candies and Christmas themed cupcake meringues. Use royal icing to attach cookies to the base. Add candy canes and holiday baking chips. Use 1/8 inch wide ribbon to make the reins for the reindeer and attach with royal icing. Make Santa's Pack with tissue paper or fill with an assortment of Yummee Yummee's Christmas cookies for an edible display.
Decorate a Sweet Christmas Tree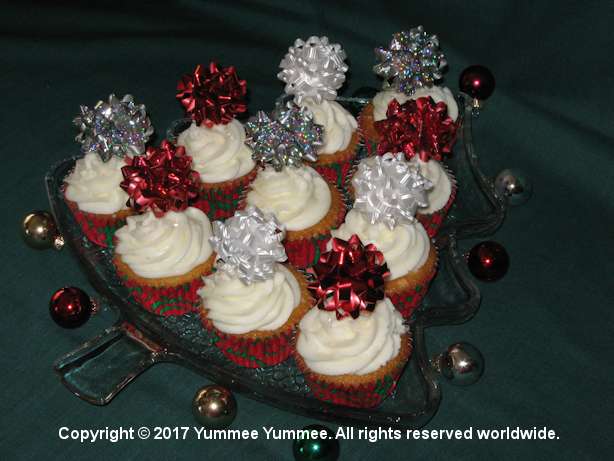 Cupcakes on Tree Platter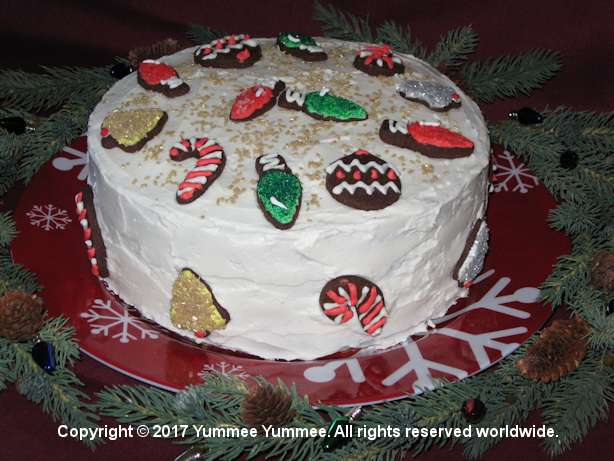 Decorate your tree, and this Christmas Cake
Purchase a Christmas tree shaped platter. Make your choice of cupcakes in holiday wrappers and frost. Place a toothpick between two miniature bows with adhesive and press firmly. Insert toothpick into cupcakes and arrange on the tree platter for a holiday buffet table.

Prepare Fudgee Chocolate Velvet Cake and frost with Sandwich Cookie Filling. Sprinkle the top of the cake with gold decorator sugars. Use 1 1/2 inch cookie cutters and make Chocolate Cut Out Cookies. Use royal icing for details on cookies and decorate with colored sugars. Place decorated cookies around the sides and top of frosted cake, before frosting is set. What's better than cookies and cake? Maybe ice cream.
It's the Gingerbread Man!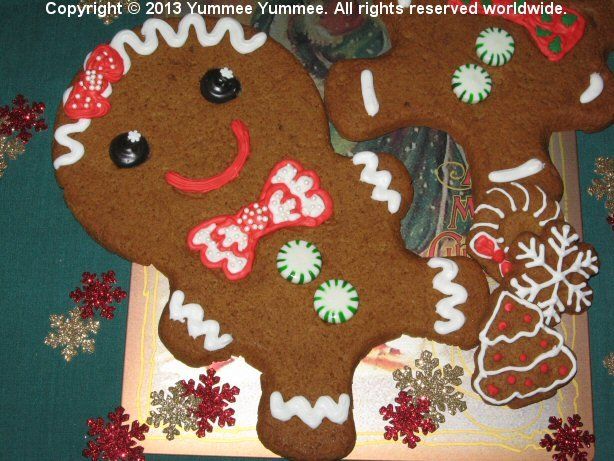 Giant Gingerbread Man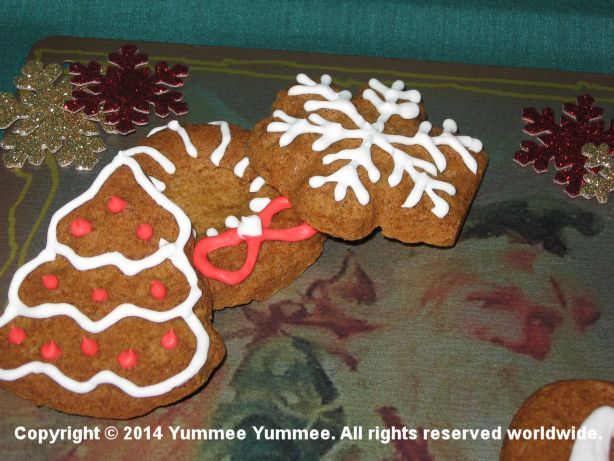 Gingerbread Press-In Cookies
Have fun with the kids this holiday. This does require a special pan, but the little elves will love pressing the dough in and decorating their own Gingerbread Man / Woman. This recipe makes enough for 3 large Gingerbread Man Cookies, or multiple pans of smaller cookies. Decorate with royal icing, non pareils, and mints. Let the elves get creative! Make some new Christmas traditions - gluten-free.
Snowflake Cake Plates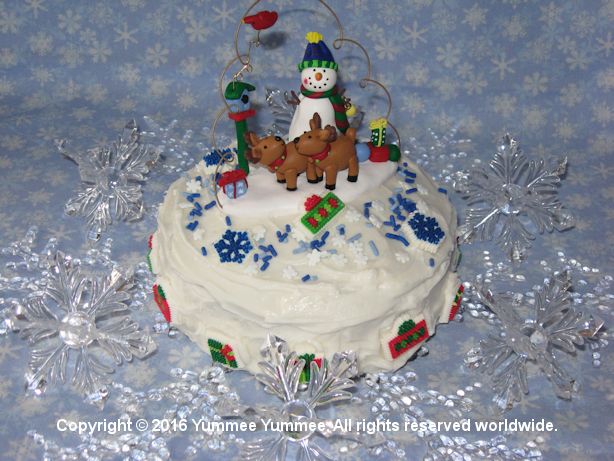 Snowman Cake with 3D Topper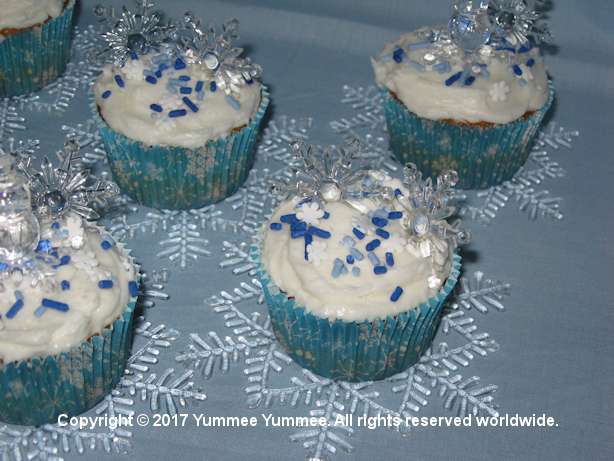 Snowflake Cupcakes

Use a large plastic snowflake as a base for cake artistry. Frost with fluffy white frosting and decorate with snowy sprinkles and cupcake meringues. The centerpiece is a three dimensional Christmas or winter decorative sculpture. These ice castle cupcakes were easy to decorate. Use snowflake wrappers, snowy sprinkles, and frosty snow table scatter. Sit each cupcake on a snowflake ornament for a sweet surprise. Homemade and fresh baked - NOT FROZEN!
Christmas Morning Breakfast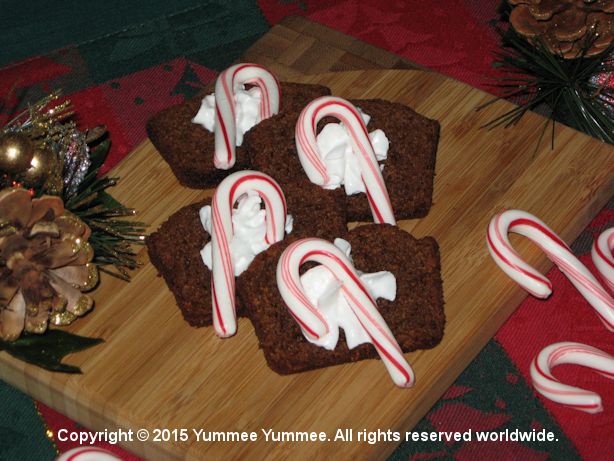 Gingerbread Slices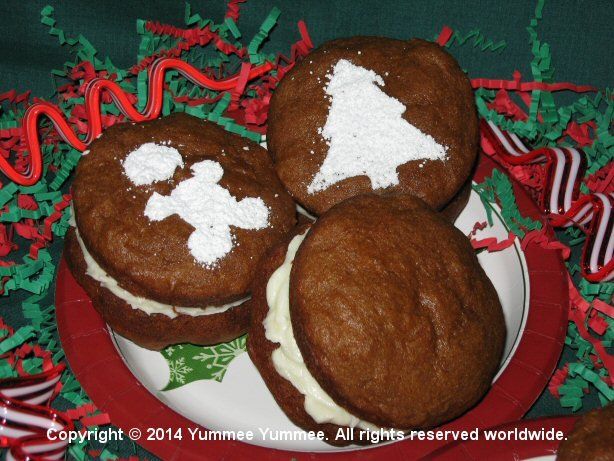 Christmas Whoopie Pies
Decorating should always be this easy.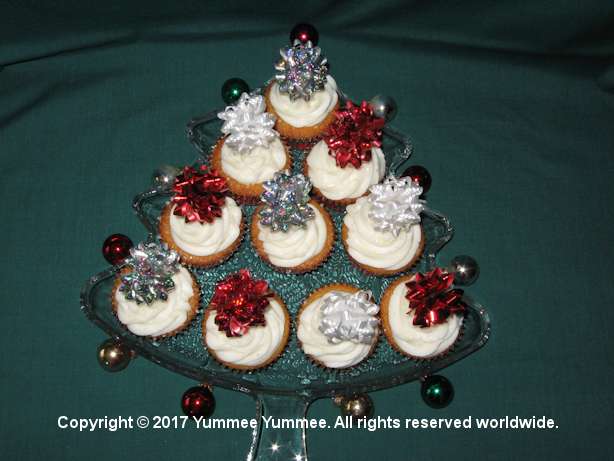 Make Gingerbread, slice, add a bit of whipped cream, and top with a candy cane. It's a simple and Yummee Yummee breakfast. Use our recipes for Gingerbread Whoopie Pies and Orange Cream Cheese Filling. To make the powdered sugar designs, use a set of Christmas cupcake stencils. Your 'true belivers' will love it. And, you get to make Christmas magic!

Every image on this page was made with a Yummee Yummee gluten-free recipe and baking mix. From cookies to cupcakes and cakes, it's easy with Cookiees mix. Shop for premium gluten-free baking mixes and stock your pantry for the Christmas holidays. Don't accept coal in your stocking or mediocre gluten-free food. A Sample Pack of Yummee Yummee premium gluten-free baking mixes is a perfect gift for your family.
Sign Me Up!
Tell me about
new products, recipes, special offers, and fun for kids
.