Easter Cakes Decorating!
An Egg-cellent Centerpiece
Discover your "ONE MIX . . . Endless Possibilities!" with our premium gluten-free baking mixes.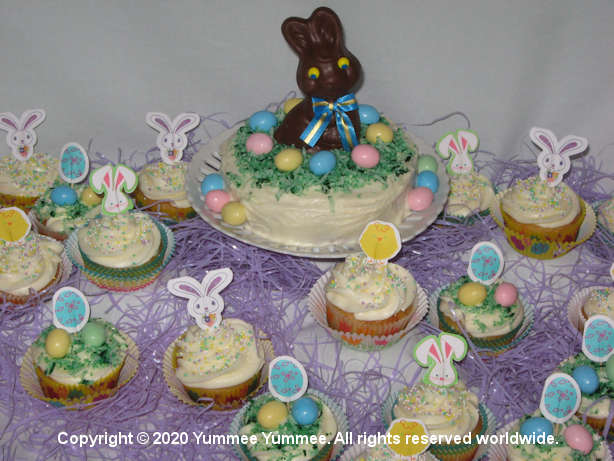 Cake with Chocolate Bunny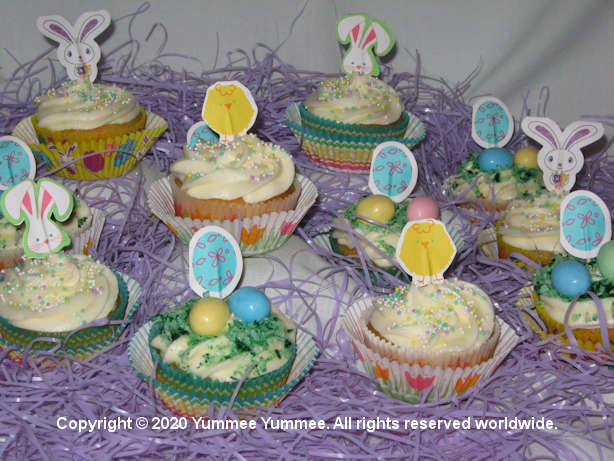 Cupcakes with Bunnies, Eggs, and Chicks
Don't be surprised if these eggs go missing before dessert! Make an Easter centerpiece from your favorite cake. Divide the batter between a 6 x 3 inch cake pan and standard paper lined cupcake pans. Don't forget the festive liners! Use a small cake plate to display the cake. Frost and decorate the cake with candy coated chocolate eggs, dyed sweetened flaked coconut, and a milk chocolate Easter bunny. Dye the coconut with a few drops of liquid food coloring to the desired shade of green. Decorate frosted cupcakes with either dyed sweetened flaked coconut and candy coated chocolate eggs or spring colored nonpareils. Add festive picks to either type of cupcake.
Easter Bunny Desserts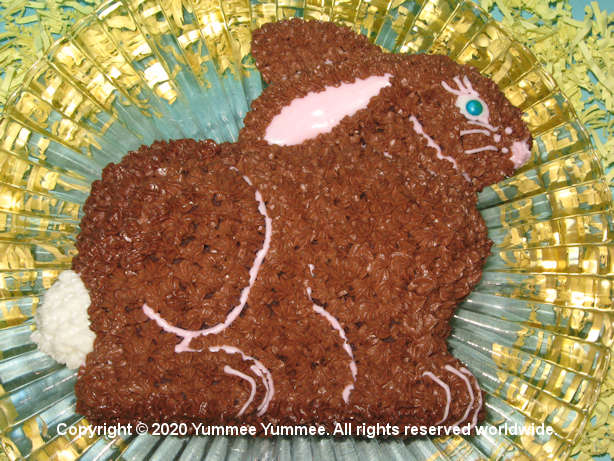 Vintage Chocolate Bunny Mold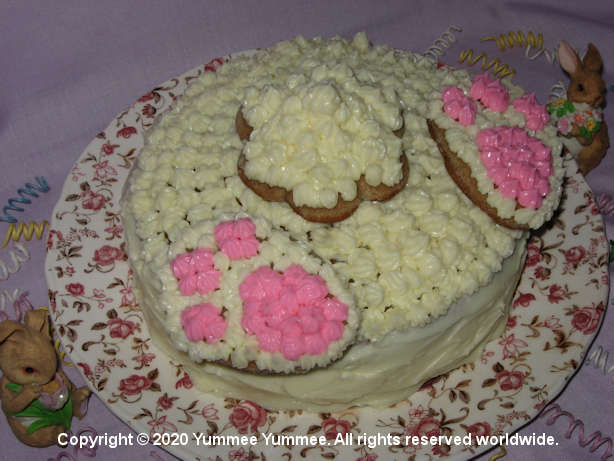 Bunny Butt Carrot Cake
Some bunny loves cake! Who gets the bunny tail? Use a vintage bunny mold to make a chocolate bunny cake. Decorate with chocolate and vanilla buttercream frosting. Use either a number 18 or 22 decorating tip to make the bunny fur. Tint some of the vanilla buttercream pale pink with gel food coloring and outline with a number 5 tip. Use a blue candy button for the eye. Carrot Cake makes the best Bunny Butt cake. Use two 8 x 2 inch cake pans and a bunny butt mold. Frost the cake. Attach the tail and feet with toothpicks. Frost the top of the tail and feet. Dye the frosting pink with gel food coloring to make the bunny paw prints.
Miniature Molds and Fresh Carrot Cake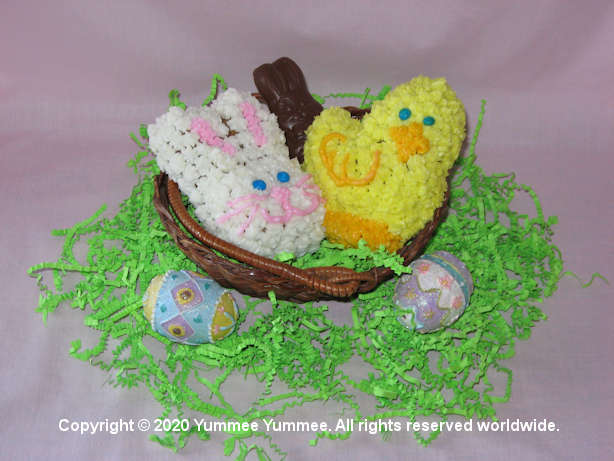 Bunny and Chicks Carrot Cake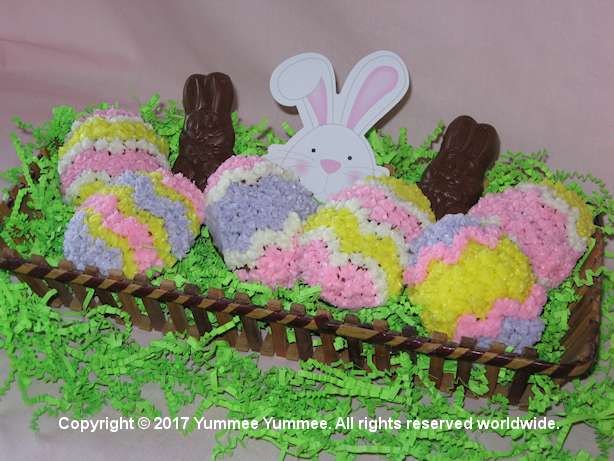 Eggs Carrot Cake
Miniature molds make a Yummee Yummee dessert.

Decisions, decisions - bunny, chick, egg, or all of the above? Divide the cake batter between the prepared mold pans. Make and tint vanilla buttercream frosting with desired shades of gel food coloring. Use either a number 16 or 18 decorating tip to make bunny fur, chick feathers, and dimensional sugar eggs. Add details with a number 4 decorating tip. Use blue candy buttons for the eyes.
Indulge in Chocolate . . . Bunnies!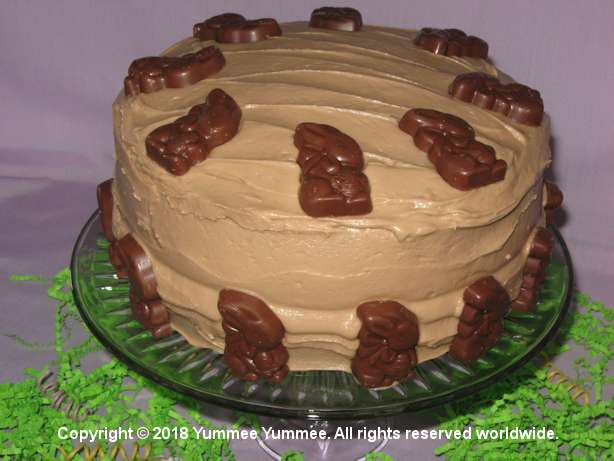 Milk Chocolate Easter Bunny Cake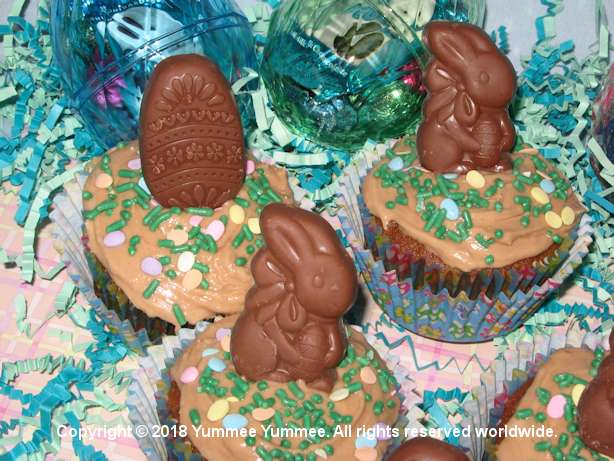 Milk Chocolate Cupcakes with Eggs and Bunnies
The Easter Bunny is on his way - with chocolate. It's easier to find these chocolate treats than to go on an egg hunt. Buy plenty of miniature chocolate bunnies to make these sweet treats. This recipe is made with real Milk Chocolate Easter Bunnies in the cake and the frosting. Yummee! Save some miniature bunnies for decorating. Encircle a two layer 9 inch cake with the bunnies. To decorate cupcakes, frost, top with Easter themed sprinkles, and add a chocolate bunny or egg. Everyone will want at least one chocolate bunny on their piece of cake.
Kid-Friendly Easter Centerpieces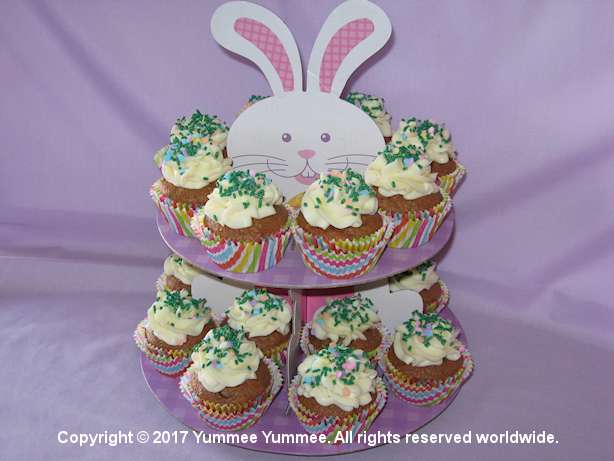 Egg Stand Carrot Cake Cupcakes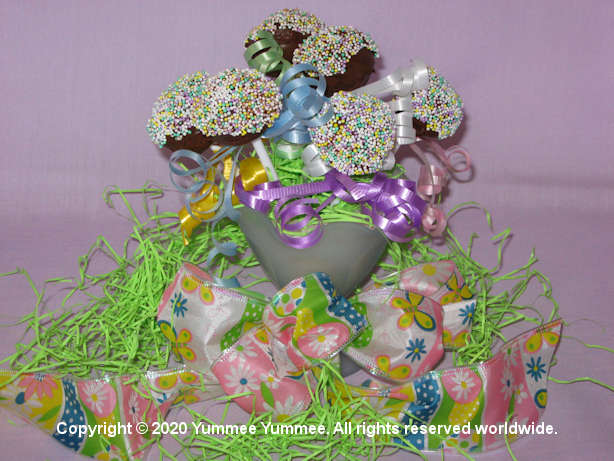 Cake Pops

Have some food fun with easy Easter centerpieces for the little bunnies. Use an egg stand to showcase Carrot Cake cupcakes. Frost with Honey Cream Cheese Frosting and top with Easter themed sprinkles. Make cake pops according to your favorite recipe and decorate with Spring colored nonpareils. Fill a sundae cup or bowl with uncooked white rice. Top with Easter grass. Tie curly ribbon around the cake pop sticks. Insert cake pops into the rice. Add a festive bow to complete your edible masterpiece.
Fanciful Carrot Cake Cupcakes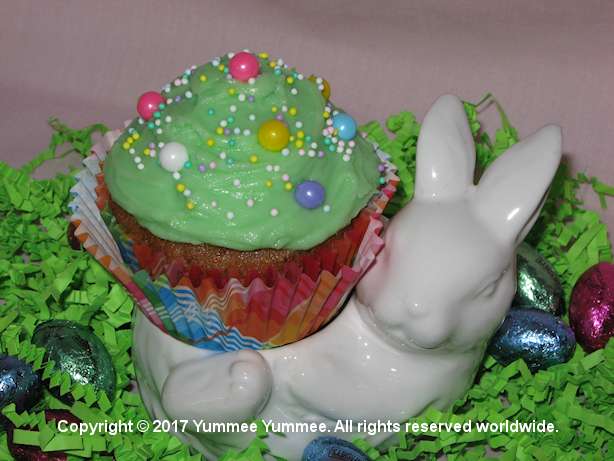 Bunny Tealight Carrot Cake Cupcakes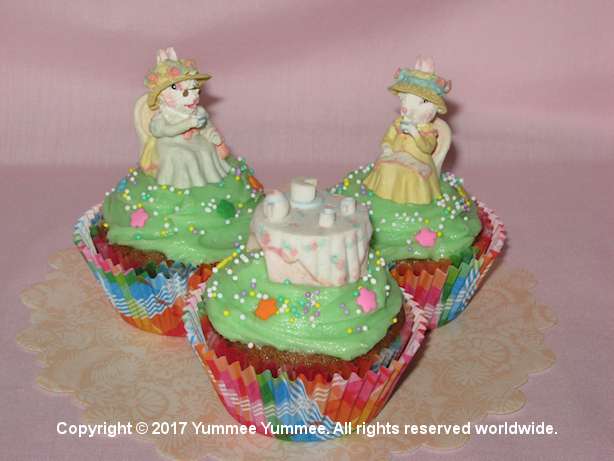 Bunny Tea Party Carrot Cake Cupcakes
Show some bunny love with these easy decorating ideas. Dress up any cupcake with a seasonally appropriate tealight holder. Tint the frosting green with gel food coloring. Add nonpareils and candy pearls for a simple, yet sophisticated dessert. For dinner guests, use the tealight cupcakes as place cards or a bunny surprise gift. Tea for two? Top cupcakes with Easter figurines. Tint the frosting with gel food coloring. Add nonpareils and miniature sugar flowers. Place the figurines on top of the cupcakes. These cupcakes are fancy, elegant, sophisticated, and easy.
Little Chocolate Bunny Invasion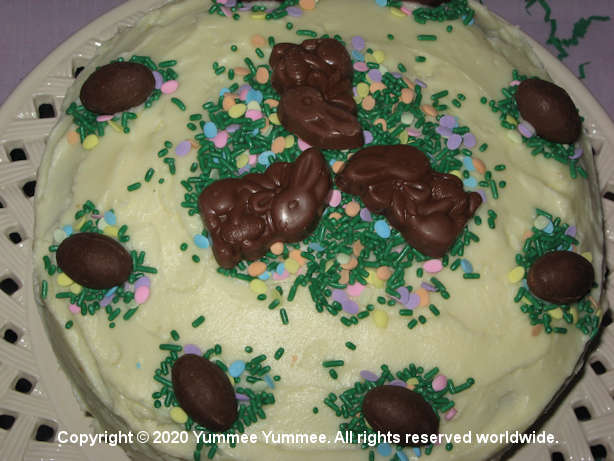 Chocolate Bunny Carrot Cake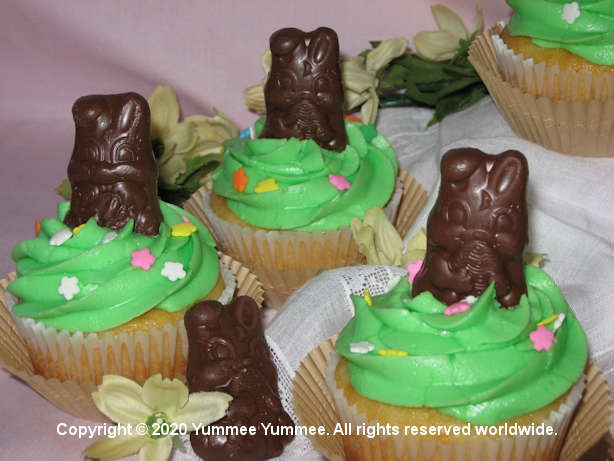 Chocolate Bunny Cupcakes
What's Easter without chocolate bunnies? Lots and lots of chocolate bunnies. Stock up now and enjoy for months. Make a two layer 8 inch Carrot Cake with Honey Cream Cheese Frosting. Top with Easter themed sprinkles, 3 chocolate bunnies, and chocolate eggs. Make sure to place the sprinkles under the bunnies and eggs so it looks like Peter Cottontail has visited your house. Cupcakes can be easy to decorate. Tint the frosting with gel food coloring. Make a luscious swirl of buttercream frosting and top with miniature sugar flowers and milk chocolate bunnies. Give the illusion that the Easter bunny is hiding in the cupcake grass.
ATTENTION ADULTS: Please be sure to remove any and all non-edible decorating items from the food before serving to children or other adults. Decorating for Easter is great fun, but please be safe. Avoid any possibity of a choking hazard. Have a Happy Easter!
Every image on this page was made with a Yummee Yummee gluten-free recipe and baking mix. From cookies to cupcakes and cakes, it's easy with our gluten-free mixes. Shop for premium gluten-free baking mixes and stock your pantry for the Easter season and Spring. Eat the best gluten-free baked goods. Why settle for mediocre gluten-free food?
Sign Me Up!
Tell me about
new products, recipes, special offers, and fun for kids
.