Turkey Carcass – Decorative Art or Flavorful Stew?
Tucson, Ariz. - November 21, 2011 – Thanksgiving is a feast for the senses. The aroma of roasted turkey and fresh baked dinner rolls tempt the taste buds. What do you do after all the relatives are stuffed? Desserts disappear first. It's a certainty that your pie is gone by the next day. The sliced turkey is great for sandwiches. What about that sad looking turkey carcass?
Do not toss the carcass in the garbage! One option is to recycle the dried turkey carcass and bones as art. Add a little paint, glitter, silk flowers and a bow to the clean carcass for a decorative centerpiece. Use your decorated centerpiece as a gift for your least favorite relative.
Here's a much better idea. Use the carcass to make a delicious Turkey Vegetable Stew. It's a great way to stretch your food budget. Our Brown Rice Turkey Dressing creates dumplings to complement the stew. This simple recipe uses your Thanksgiving Day leftovers to create spectacular results. So, save the turkey gravy. Turkey Vegetable Stew is a perfect evening meal on damp, cold fall days. If you make Turkey Vegetable Stew, the bones will be clean and ready for your turkey carcass art project. Here's the recipe.
Turkey Vegetable Stew with Brown Rice Dressing Dumplings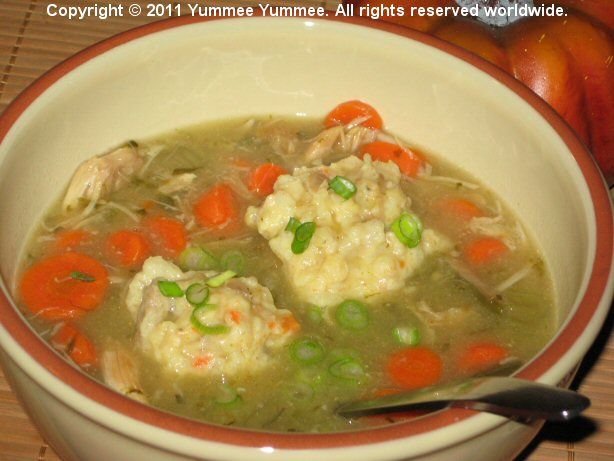 Turkey Vegetable Stew with Brown Rice Dressing Dumplings
10 to 12 pound turkey carcass
1 cup chopped onion
2 teaspoons dried garlic
1/2 teaspoon salt
2 gluten-free chicken-flavored bouillon cubes
4 to 5 medium carrots, peeled and sliced
3 ribs celery, sliced
1/4 pound fresh green beans, snapped in 1 inch pieces
1/4 cup chopped fresh parsley
2 tablespoons chopped fresh cilantro
3 cups leftover giblet stock
2 cups leftover turkey gravy
6 tablespoons tapioca flour
1/4 teaspoon xanthan gum
Pinch of salt
2 eggs, beaten
2 cups leftover Brown Rice Turkey Dressing
1 to 2 sliced green onions
In a large stockpot, combine turkey carcass, onion, garlic, salt, bouillon cubes, and enough water to cover carcass. Bring the mixture to a boil. Reduce heat to medium-low and cook for 2 hours. Remove and debone carcass. Strain and reserve liquid. Return meat, onion, and liquid to stockpot. Add carrots, celery, green beans, parsley, cilantro, and giblet stock to stockpot. Bring to a boil. Reduce heat to low and simmer for 45 minutes, or until carrots are tender. Return pot to a boil and add leftover gravy, stirring until mixture reaches desired consistency.
Meanwhile, combine tapioca flour, xanthan gum, salt, and eggs in a medium bowl. Mix well. Add Brown Rice Turkey Dressing and mix well. Scoop and drop dumplings by tablespoonfuls into boiling stew. Cook dumplings over a medium boil for 15 minutes. Gently stir dumplings, flipping every few minutes to thoroughly cook. Serve warm. Garnish with green onions.
Cook's Note: If you are not following a gluten-free diet, you may substitute wheat flour for tapioca flour and omit xanthan gum.
Web site: http://www.yummeeyummee.com
Online store: http://www.yummeeyummee.com/store/index.html
Subscribe to TheDreameeDog Channel: http://www.youtube.com/user/thedreameedog
Like Yummee Yummee on Facebook
Follow The Dreamee Dog on Twitter
ABOUT: Yummee Yummee produces 4 unique and highly versatile gluten-free baking mixes - Dreamees, Muffins & Coffee Cakes, Breads, and Cookiees. Make artisan crackers and biscuits; fruit filled muffins, coffeecakes, and quick breads; soft sandwich and artisan breads, pizza, and cinnamon rolls; chip-filled cookies, easy-to-make bars, and sugary delights. Our baking mixes offer remarkable taste, gluten-like texture, and incredible value for gluten-free bakers. Unlike most single purpose baking mixes, Yummee Yummee gives the baker complete control. You decide what to bake and enjoy. Mixes are available exclusively at yummeeyummee.com.
# # #
For more information concerning this press release click here for contact information.:


Listen to the Dreamee Dog ...