Microwave Chicken Cordon Bleu Pizza
Tucson, Ariz. - March 31, 2011 - This new microwave Gluten-Free 100 recipe from Yummee Yummee combines French and Italian cuisines in a flavor-packed pizza. Creamy Alfredo sauce, Parmesan, Swiss and Mozzarella cheeses, green onions, lean white meat chicken, spices and your choice of deli ham or bacon bits creates a simply scrumptious pizza. Does your local pizzeria serve this? Is it gluten-free?
Prep our Yummee Yummee Dreamees mix pizza crust, top with these savory flavors, heat and eat in your kitchen after a busy day. Make this pizza in your dorm room or even on the road. With a little planning you can eat a nutritiously satisfying meal with Yummee Yummee's flexible gluten-free baking mixes. One taste of our Chicken Cordon Bleu Pizza and you will say, "Yummee Yummee Stuff!" Share if you want, the recipe makes two 9-inch pizzas. It is part of our expanding collection of easy and quick gluten-free microwave recipes for the busy lifestyle.
Yummee Yummee gluten-free baking mixes start at $3.99 per single mix. Save 10% when you buy a sample pack of mixes. For $9.99, purchase our Customer's Choice 2 Pack - 1 Dreamees mix and a second mix of your choice. Order a Dreamees mix 4-pack for less than $20, shipping included; and the microwave recipes are free with purchase. Gluten-free meals, cookie bars and pizza varieties are included in the Gluten-Free 100 recipe booklet. See our website for a complete list of microwave recipes. It's the Yummee Yummee way to enjoy the next generation of versatile gluten-free products. Celebrate National Cordon Bleu Day - gluten-free.
Web site: http://www.yummeeyummee.com
Online store: http://www.yummeeyummee.com/store/index.html
Yummee Yummee Videos: http://www.yummeeyummee.com/ddvideos.html
TheDreameeDog Channel: http://www.youtube.com/user/thedreameedog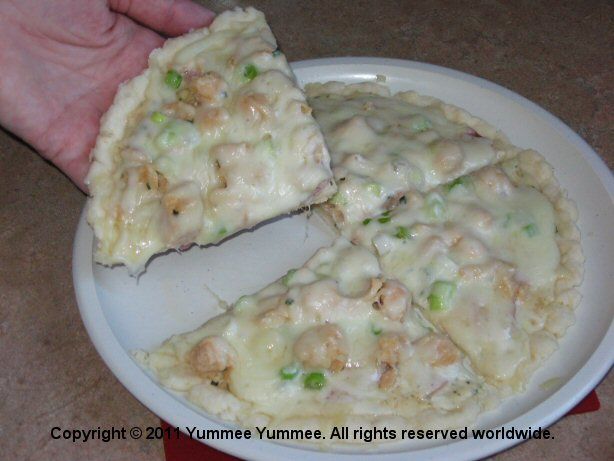 Chicken Cordon Bleu Pizza
ABOUT: Yummee Yummee produces 4 unique and highly flexible gluten-free baking mixes. They are: Dreamees, Muffins & Coffee Cakes, Breads and Cookiees. Our baking mixes offer remarkable taste, gluten-like texture and incredible value for gluten-free bakers. Unlike most single purpose baking mixes, Yummee Yummee's mixes give the baker complete control of what to bake and enjoy. For example, Breads mix makes scrumptious sandwich bread, dinner rolls, artisan breads or cinnamon rolls, while our Cookiees mix makes easy cut sugar, double chocolate delights or chocolate chip cookies. The baker varies the fresh ingredients for each recipe with the mix. It's about simplicity. Prepare our Muffins & Coffee Cakes mix the day before and bake the next morning for warm oven-fresh overnight coffeecake. Enjoy your fresh gluten-free baked goods today, tomorrow or several days later. Yummee Yummee offers proven recipes for each baking mix. Mixes are available exclusively at yummeeyummee.com.
# # #
For more information concerning this press release click here for contact information.:


Listen to the Dreamee Dog ...