Let it snow! Let it snow!
Frosty the Snow Cookie
Discover your "ONE MIX . . . Endless Possibilities!" with our premium gluten-free baking mixes. Make, bake, eat, and enjoy Yummee Yummee gluten-free cookies.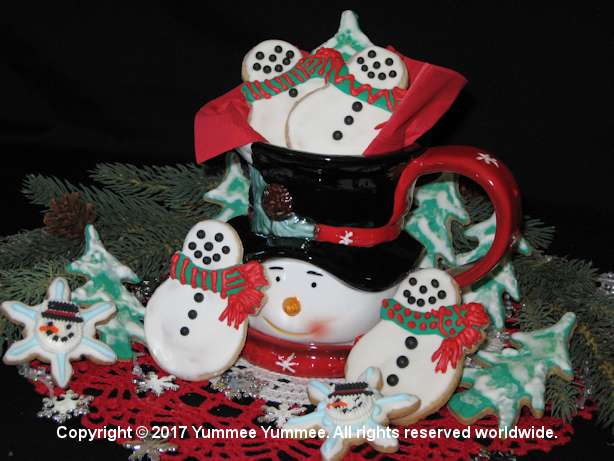 Snowman & Trees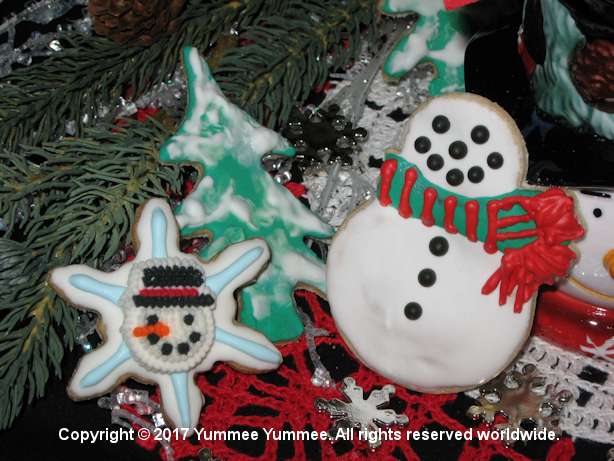 Bake a Snowman
Easy Cut Out Sugar Cookies are simple to make and fun to decorate.

These frosty cookies are sweet with royal icing designs and cupcake meringues. Make each snowman unique with a different scarf. For happy little snow tipped trees, use a spatula to texture the trees with green royal icing. Once the trees are dried, glaze with white royal icing. Enjoy a snow day adventure in the kitchen.
It's a Cookie Blizzard!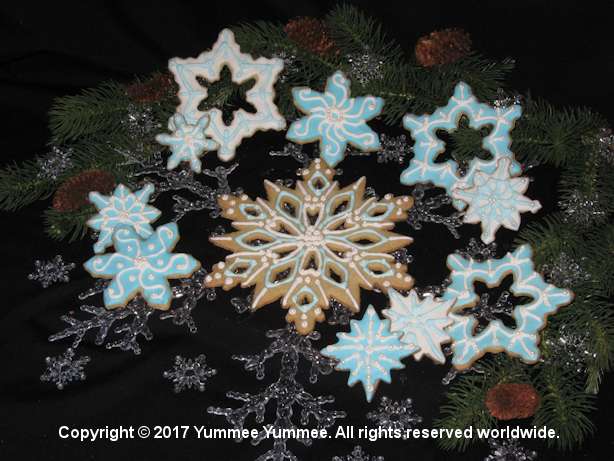 Snowflakes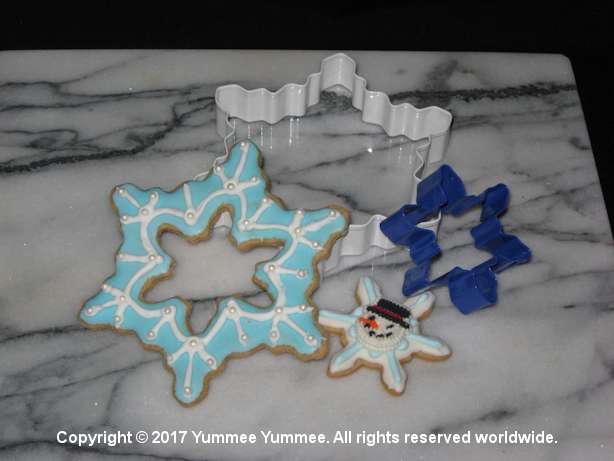 Two-in-One Snowflake
Watch the snowflakes disappear as your guests devour them. Make unique designs with two colors of royal icing and white non pareils. There is no limit to your creativity! Double cut snowflakes are a unique treat. Cut the large snowflake first. Then, use a smaller cookie cutter to cut the inside. Bake and decorate both cookies. It's a two for one cookie treat.
The Art of the Snowflake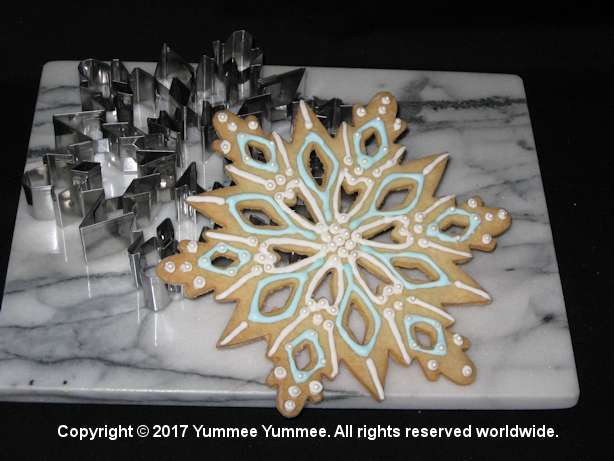 Snowflake Art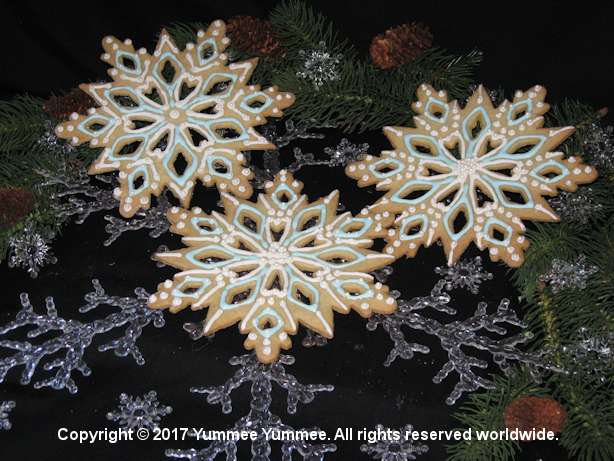 Impress Your Guests
Yummee Yummee's Easy Cut Out Sugar Cookies are incredibly stable, yet marvelous to eat. This wonderful snowflake cookie cutter looks complicated, but is very simple to use.

Roll the cookie dough as directed in the recipe and cut with the large snowflake cookie cutter. Leaving the cutter in place, slide a floured cake lifter under the dough and cutter. Slide the cookie onto a parchment lined baking sheet. Remove the cutter and pick out any remaining small cut out shapes with a toothpick. Once baked, use the parchment paper to transfer the cookies to cooling racks. Decorate cookies with royal icing and non pareils.
Pizzas for Snowy Days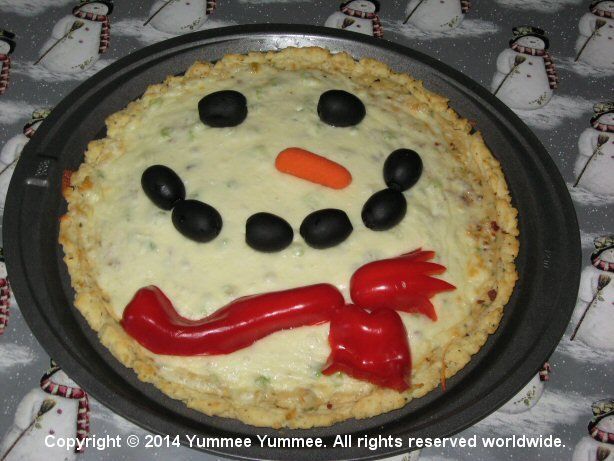 Snowman Pizza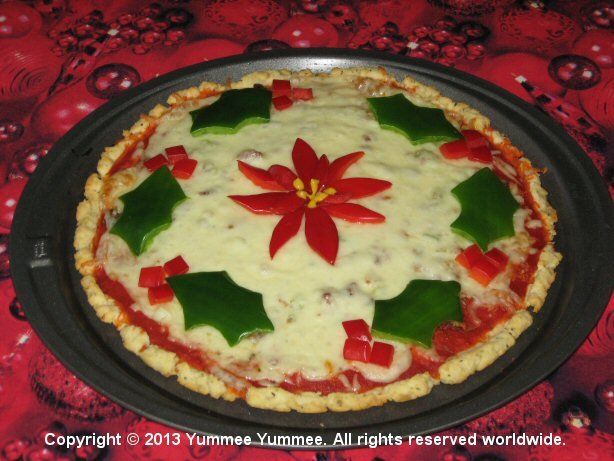 Poinsettia Pizza
This snowman is nice and warm on a cold day. Top a pizza crust with Alfredo Sauce, bacon bits, chopped sweet onions, and shredded Mozzarella cheese. Top the baked pizza with colossal or super jumbo black olives for the eyes and mouth. Use a baby carrot for the nose. Clean, seed, and cut a slightly curved red bell pepper to make the snowman's scarf. Cut 2 short ends and one long piece to make the scarf wrap around the snowman's neck. Cut notches into the short ends to make fringe. Serve the pizza on a piece of snowman wrapping paper. Make a poinsettia and holly pizza. Clean, seed, and cut red and green bell peppers into quarters. Flat sided peppers work best. Make leaves from the green bell pepper with a holly shaped cookie cutter. Cut small squares and petal shapes in 2 to 3 sizes from the red bell pepper. Place the green leaves around the edge of the pizza and place 3 red pepper squares at one end of each leaf for the holly berries. Center the petal shaped pepper slices on the pizza, starting with the largest size first. Add the middle size next, and the smallest size last. Work towards the center of the flower. For the center on the poinsettia, use yellow mustard or a yellow bell pepper cut into small squares for the dots on the poinsettia.
Penguins, Polar Bears, and Seals!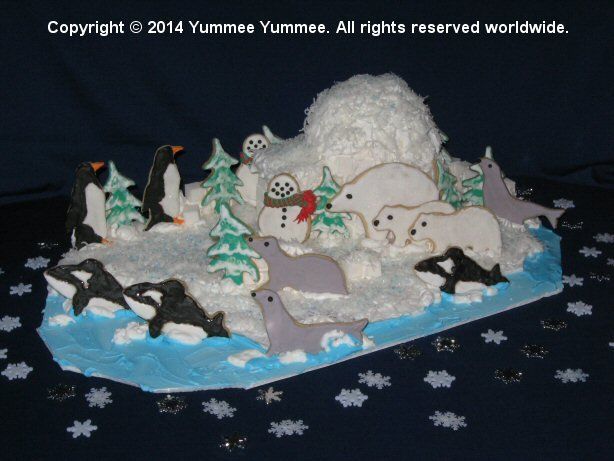 Igloo, Bears, and More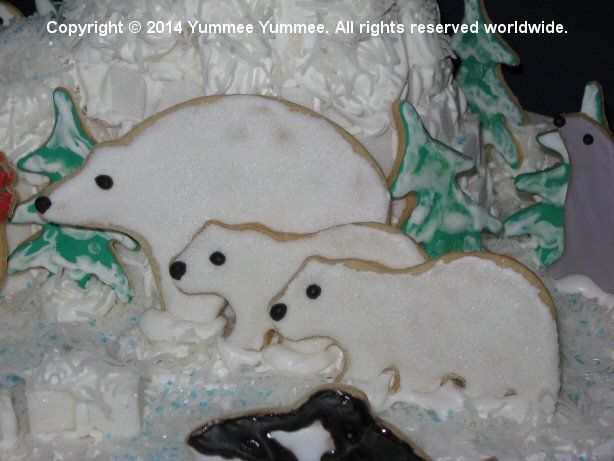 Polar Bears

This winter themed centerpiece is yummy fun. Decorate sugar cookies as seals, orcas, polar bears, penguins, snowmen, and woodland fir trees. To make furry polar bears, sprinkle granulated sugar over royal icing. Make a base using foam core and frosting. Part of the base is decorated with white royal icing, blue and white sugars, and sweetened flaked coconut. Make an igloo out of sugar cubes and royal icing. Top the igloo like the snowy base with royal icing and coconut. Attach the animals with royal icing, using sugar cubes as supports if needed.
Every image on this page was made with a Yummee Yummee gluten-free recipe and baking mix. Make, bake, eat, and enjoy cookies, cupcakes, cakes, sweet breads, coffeecakes, and pizza. It's easy with Yummee Yummee's premium gluten-free baking mixes. Shop for a Sample Pack of gluten-free baking mixes and stock your pantry for the winter season. Buy the best and leave the rest. Don't accept mediocre gluten-free food. Use our premium baking mixes with proven recipes.
Sign Me Up!
Tell me about
new products, recipes, special offers, and fun for kids
.