Welcome to Yummee Yummee Gluten Free!
Happy New Year!
It's a new year. Time to try new things, including our exclusive line of premium gluten-free baking mixes. Order a case of Muffins & Coffee Cakes today and enjoy decadent coffee cakes and sumptuous muffins. Cookiees mix makes spectacular gluten-free cookies. Did your cookies look Yummee Yummee?
Discover your "ONE MIX . . . Endless Possibilities!" with our premium gluten-free baking mixes. Make, bake, eat, and enjoy gluten-free dinner rolls, muffins, coffeecakes, sweet breakfast breads, and cookies by the dozens. It's easy to create great tasting, fresh, homemade, baked goods. Share your love; share your food!
Eye Catching Muffins & Coffee Cakes
Diet after Christmas? Who wants to do that? Of course, you enjoyed our premium recipes for gluten-free Christmas cookies. Now warm up the kitchen with the aroma of fresh baked goodness from your oven. Skip the gym and indulge in decadently sweet Coffee Cakes from Yummee Yummee.
Chase Away the Winter Blues
New Year's Resolutions are difficult to keep; eating and baking gluten-free should not be a challenge. Yummee Yummee's premium mixes are simple and quick with decadently divine results.

There's a recipe for everyone to enjoy. Explore what endless recipe possibilities can do for you. Browse our website, try a recipe or two from our free recipes on the Free & Fun page, order a Sample Pack today, and discover the Endless Possibilities for yourself.
Play Dough
Winter gets long for little people. It's too cold to play outside.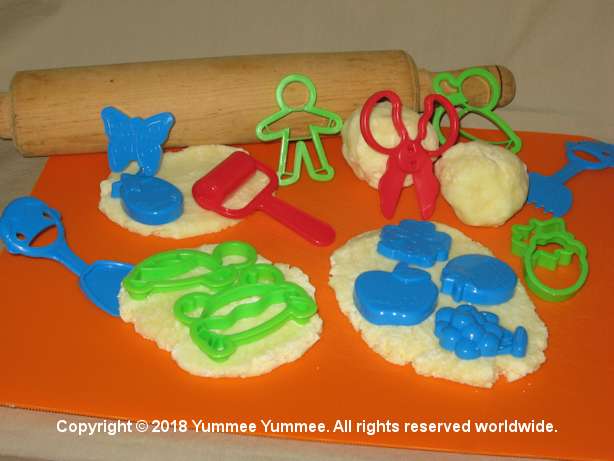 Use your microwave to make Play Dough for your little ones. With simple everyday ingredients, this recipe for homemade play clay will entertain your child for hours. Pull out the cookie cutters or your child's stash of toy cutters for an afternoon of modeling. It's early training for kitchen creativity with baking. Don't forget to bake a batch of cookies! Dreamee Dog recommends Sugardoodles for all children's activities.
Dreamee Dog Visits Iowa
Iowa is a fun state to visit. Dreamee Dog loves playing softball, so she had to visit the Field of Dreams in Dyersville.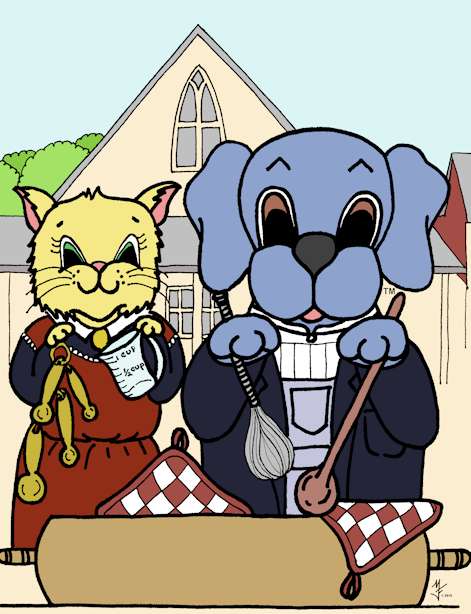 It's the origin of the movie. Next, she attended the Indianola National Balloon Classic. She loved the brightly colored balloons, but wanted to know why there wasn't a balloon of her. Iowa is famous for state and county fairs. While at the National Balloon Classic, Dreamee Dog ate an Iowa pork burger on one of her homemade buns. Then, she visited Clarion for the birthplace of the 4-H emblem. In Eldon, she posed with one of her cat friends in front of the Grant Wood House. It was a fun parody of American Gothic. Finally, she visited Waterloo where she got to see the John Deere Tractor and Engine Museum. Can you discover Iowa's unique tree? Hint: it's in the leaves of the Chinkapin Oak. Make a batch of Zucchini Bread while you color these pages. It's a classic Iowa recipe.
From our kitchen to yours, you can share the day's events, be thankful, eat good home cooked food, and most important, share laughter in the kitchen and around the dinner table. Use our FREE recipes and Yummee Yummee's premium gluten-free baking mixes to make a spectacular dinner for a gathering of friends and family – gluten-free or not. Share your life; share your food.

Yummee Yummee has a recipe for all occasions – holiday celebrations, parties, wedding reception, birthday, family meal, kid friendly snacks and treats, or a quiet romantic dinner. Save time and money with Yummee Yummee's premium baking mixes, excellent recipes, and superior results. Serve only the best family-friendly fare with Yummee Yummee.
Not available in stores - online only! SHOP & SAVE 20% on a Sample Pack. It's a great way to taste test each of our premium gluten-free baking mixes. Dreamee Dog and the Yummee Yummee Team wish you a Happy New Year!
Sign Me Up! Tell me about new products, recipes, special offers, and fun for kids.