Welcome to Yummee Yummee Gluten Free!
Merry Christmas!
Merry Christmas from our family to yours. Did you know Yummee Yummee premium baking mixes can make old fashioned Christmas treats? Four easy to use mixes and dozens of recipes make wonderful sweet creations. It's time to bake the cookies! Did you Gobble until you Wobbled?
Discover your "ONE MIX . . . Endless Possibilities!" with our premium gluten-free baking mixes. Make, bake, eat, and enjoy gluten-free dinner rolls, muffins, coffeecakes, sweet breakfast breads, and cookies by the dozens. It's easy to create great tasting, fresh, homemade, baked goods. Share your love; share your food!
Traditional Christmas Cookies
Ho! Ho! Ho! Santa is on his way. He's already made his request to us; he wanted gluten-free cookies that tasted identical to wheat-filled sweets. We have it on good authority from his head elf at the North Pole that the Yummee Yummee team and the Dreamee Dog are on the permanent nice list because of our premium Cookiees mix. One mix; 35 different recipes. Dazzle your friends and family. Our cookies do taste better than wheat filled cookies. We've watched cookie connoisseurs devour our cookies while the wheat cookies stayed in the container.

Mrs. Claus' Favorite Cookie Recipes
It's cookie time! Even Mrs. Claus has asked for our recipes.

She's one of our very best year round customers. Bake the best gluten-free cookies from sweet Sugardoodles to the tradiitional Chocolate Chip cookies. Make Christmas memories in your kitchen with your little decorating elves. Take a taste test today and discover Endless Possibilities for yourself by ordering a case of Cookiees Mix.
Sweet Breakfast Delights
Who doesn't love Danish? What about sweet rolls for breakfast? Enjoy your Christmas morning with the same mix you used to make dinner rolls for Thanksgiving or Christmas dinner. You did make dinner rolls from Yummee Yummee's premium gluten-free Breads mix, right? It's one mix; over 24 recipe possibilities. Buy the best; leave the rest.
Food Fun for Little Fingers
Muffins, Coffee Cakes, Whoopie Pies, Quick Breads, Donuts, Cookies, and more.

Yummee Yummee's mixes make dozens of sweet treats with simple to use recipes. Make Christmas morning breakfast an event to remember for the little ones. Cookies for breakfast - why not? They're only little once. Order a Sample Pack today, and experience Endless Possibilities for yourself. One Dreamees mix, over 40 recipe possibilities. It's the gluten-free food of your Christmas dreams.
Microwave Fudge
Christmas cookies are good, but Christmas candy is divine.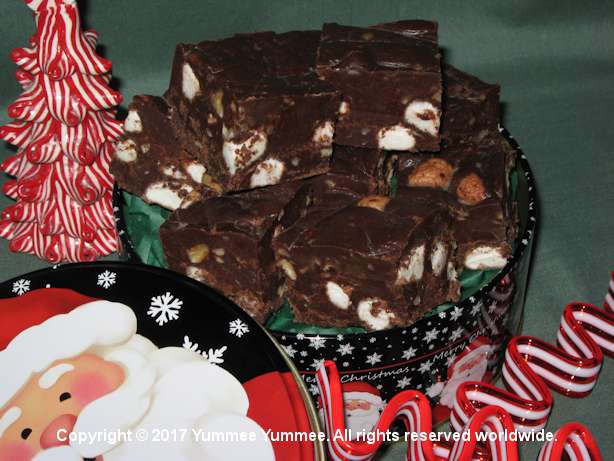 This recipe is simple and quick. All you need is a microwave and a container of frosting. No candy thermometer required. Do NOT blame us when you make it for a late night snack.
Dreamee Dog Reads Christmas Classics
Dreamee Dog has been a very good dog this year. She hears from the Yummee Yummee Team that they've all been placed on the Permanent Nice List because of her marvelous Cookiees mix. Now her tail is wagging with excitement for Santa to come to her house.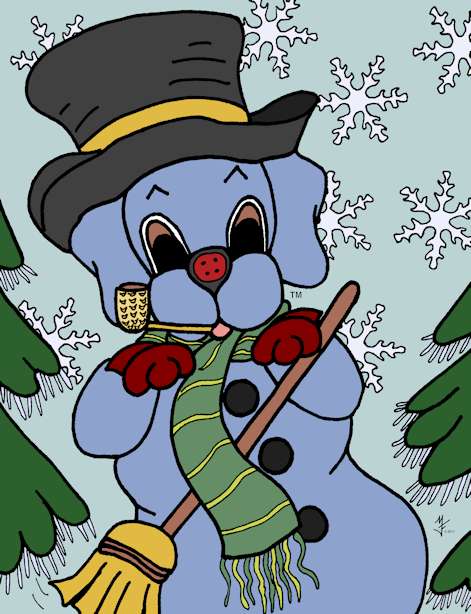 Dreamee Dog knows it's hard to wait for Santa, so she is reading Classic Christmas stories to pass the time. She was inspired by these wonderful stories to create a cheery Christmas themed pack of coloring pages. For even more Christmas fun, visit Dreamee Dog's Gallery.
From our kitchen to yours, you can share the day's events, be thankful, eat good home cooked food, and most important, share laughter in the kitchen and around the dinner table. Use our FREE recipes and Yummee Yummee's premium gluten-free baking mixes to make a spectacular dinner for a gathering of friends and family – gluten-free or not. Share your life; share your food.

Yummee Yummee has a recipe for all occasions – holiday celebrations, parties, wedding reception, birthday, family meal, kid friendly snacks and treats, or a quiet romantic dinner. Save time and money with Yummee Yummee's premium baking mixes, excellent recipes, and superior results. Serve only the best family-friendly fare with Yummee Yummee.
Reindeer Mix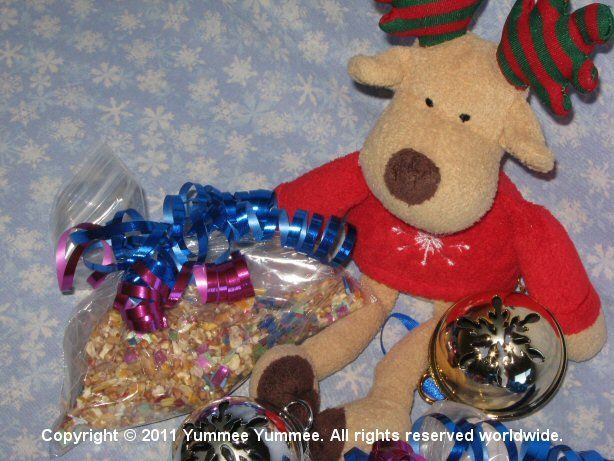 Dreamee Dog reminds all 'True Believers' to use Reindeer Mix to get Santa's Team to your house on Christmas Eve. It's guaranteed to work. Don't forget the gluten-free cookies! Santa loves diversity, so make dozens of dunkable cookies for the Jolly Old Elf.
Not available in stores - online only! SHOP & SAVE 20% on a Sample Pack. It's a great way to taste test each of our premium gluten-free baking mixes. Dreamee Dog and the Yummee Yummee Team wish you a very Merry Christmas & Happy New Year! Your family, friends, and good gluten-free food are wonderful gifts.
Sign Me Up! Tell me about new products, recipes, special offers, and fun for kids.