Welcome to Yummee Yummee Gluten Free!
Yummee Yummee Celebrates the Fourth of July!
It's time to celebrate the red, white, and blue! Bake some Yummee Yummee treats for your Fourth of July party, cookout, BBQ, or picnic. It's easy with these incredible premium gluten-free baking mixes. You did make your Mom some stunning cookies for Mother's Day?
Discover your "ONE MIX . . . Endless Possibilities!" with our premium gluten-free baking mixes. Make, bake, eat, and enjoy gluten-free cinnamon rolls, delectable cookies, soft, fresh, full size bread loaves, and cookies on the beach. It's easy to create great tasting, fresh, homemade, baked goods. Share your love; share your food!
Patriotic Goodies
Enjoy the fireworks with Yummee Yummee mixes. Bake cookies any time of the year, not just in December.

You can always say you're celebrating Christmas in July. Order a case of Cookiees mix today for your Fourth of July celebration.
Summery Microwave Treats
It's too hot to bake! No, it's not. Use your microwave to make decadent bar cookies for dessert. From mouth watering peach cobbler to savory artisan crackers to Microwave Brownies, Cook four brownie bites in oven safe bakeware for 1 minute 45 seconds in a 700 watt microwave. Dessert in 105 seconds! Dreamees mix has a recipe for everyone. Order a case of Dreamees mix to explore what endless recipe possibilities can do for you - baked or microwave. Homemade pizza in minutes!
Premium Gluten-Free Buns
Fire up the grill! It's time for burgers and hot dogs.
Fire up the BBQ grill and enjoy a bun with your burger! Whether it's a Fourth of July party or a cookout under the stars on your camping trip, no grilled burger is complete without a homemade, gourmet bun. A lettuce wrap is great, but it's not the same. These buns are good to the very last bite. No crumbling, no pasty aftertaste. Just plain delicious buns. No pan required, just shape and bake. Yummee Yummee's premium Breads mix recipes use real ingredients; milk, butter, eggs, and pure granulated sugar or honey. Simple ingredients, simple techniques, superior results! Browse our website, try a recipe or two from the Free & Fun page, order a Sample Pack today, and discover the Endless Possibilities for yourself. The Yummee Yummee Teams suggests trying Ranch Baked Beans for your next BBQ.
Gooey Chocolate Peanut Butter Candy Bars
Gooey Chocolate Peanut Butter Candy Bars are layers of sweetness.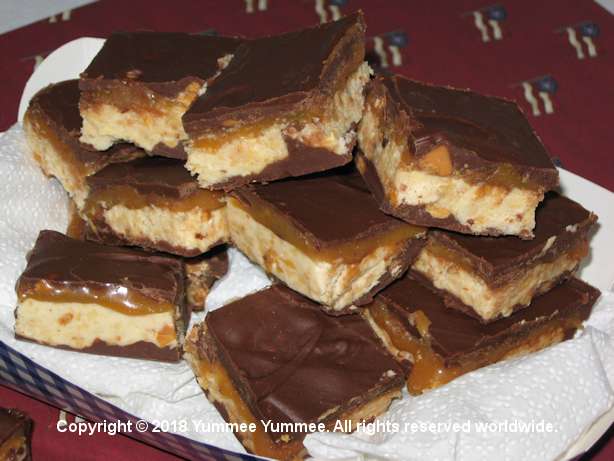 Serve chilled, these bars are a welcome respite on a hot afternoon. These homemade candy bars are loaded with peanut butter flavor and rich chocolate.
Dreamee Dog Visits Pennsylvania
Dreamee Dog loves her birthday. She just knows those fireworks are all for her. This year, she decided to visit Pennsylvania to celebrate the birth of America and her birthday. She loved her visit to the Philadelphia Historic District, complete with a stop by Independence Hall. While she was there, she had to see the Liberty Bell. Next was a stop by Shofuso House. It's a 17th century Japanese House in Philadelphia. She could have stayed and watched the koi fish for hours. She took some time off to play with the state toy, the Slinky. Finally she made a visit to Hershey, home of Chocolate World. They make some of her favorite chocolates for baking. Can you find the state flower?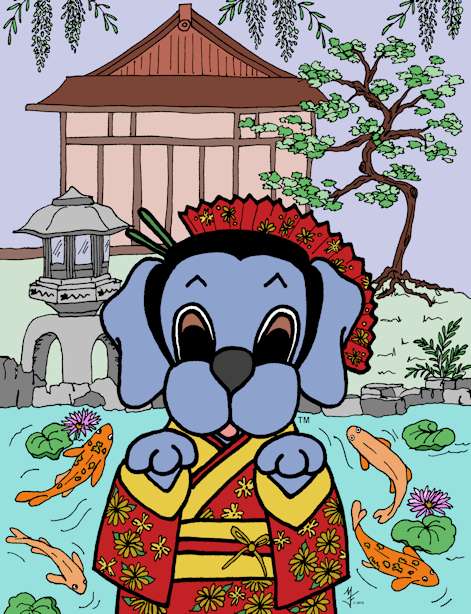 From our kitchen to yours, you can share the day's events, be thankful, eat good home cooked food, and most important, share laughter in the kitchen and around the dinner table.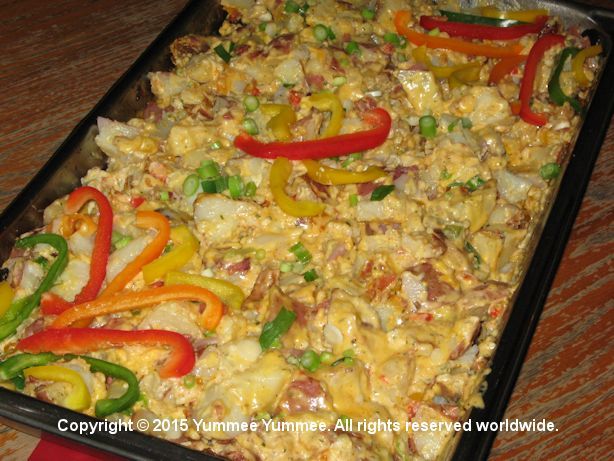 Use our FREE recipes and Yummee Yummee's premium gluten-free baking mixes to make a spectacular dinner for a gathering of friends and family – gluten-free or not. Share your life; share your food. Yummee Yummee has a recipe for all occasions – holiday celebrations, parties, wedding reception, birthday, family meal, kid friendly snacks and treats, or a quiet romantic dinner. Save time and money with Yummee Yummee's premium baking mixes, excellent recipes, and superior results. Serve only the best family-friendly fare with Yummee Yummee.
Not available in stores - online only! SHOP & SAVE 20% on a Sample Pack. It's a great way to taste test each of our premium gluten-free baking mixes. Dreamee Dog and the Yummee Yummee Team want everyone to be safe and have fun. It's Summer Time!

Sign Me Up! Tell me about new products, recipes, special offers, and fun for kids.